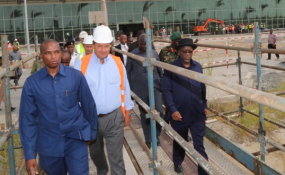 Photo: State House/Daily News
By Alawi Masare
Dodoma — Prime Minister Kassim Majaliwa has stressed that only five foreigners are currently allowed to work in companies operating in Tanzania in technical positions whose skills are not available in the country.
Mr Majaliwa was responding to a question asked by Ms Leah Komanya (Special Seats-CCM) who wanted to know if the government could investigate the 'rampant presence' of foreigners in the country including in areas like airport and ports.
Mr Majaliwa said ports, airports and border points are sensitive areas where only Tanzanians work.
"If you find foreigners there, maybe there is a company given a tender, and only five of them are allowed. We allow only technical positions which cannot be filled by the local skills," said Mr Majaliwa.
Mr Majaliwa was responding during a live-questions session to him on Thursday.