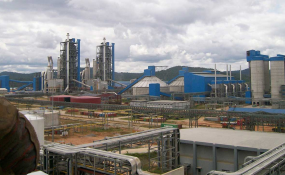 Photo: The Guardian
After the tragic killing of three staffs of the Dangote Cement Ethiopia office, the government moves to reassure investors both in the country and those eying the country as their next business destination to "provide the level of support and protection required by investors".
Dr Belachew Mekuria (PhD), Commissioner, Ethiopian Investment Commission, told Addis Standard that although "we understand that this may create some sense of uneasiness among the foreign investment community in Ethiopia, as it does with all of us," Belachew said in an interview, "[but] this unprecedented attack is an isolated incident and the relevant agencies and authorities are working hard to identify those responsible for [the] crime. He added that the government would take "all the necessary measures to prevent such incidents in the future. "I would, therefore, like to reaffirm the government's assurances."
Update: Beakal Alelign was laid to rest Y'day at Abo Church near the French Embassy in #AddisAbeba. She, was a mother of three, the youngest of whom is only one year old. The body of Tsegaye Gidey was sent to his birth place in #Adigrat, northern #Ethiopia. R.I.P from team AS. pic.twitter.com/cB5UYO31Di
- Addis Standard (@addisstandard) May 18, 2018
The killing by unidentified gunmen of Deep Kamra, Dangote Cement Country manager, Beakal Alelign, a secretary,and Tsegaye Gidey, a driver, on Tuesday May 16 afternoon has left the country in shock. Prime Minister Abiy Ahmed said he was "shocked & saddened by the barbaric killing" and promised an investigation to "bring the perpetrators to justice." OPDO, the party administering the Oromia regional state, where the cement plant is located at and where the killing happened, strongly condemned the killing; it also said it will do everything to bring perpetrators to justice.
HE PM Dr Abiy Ahmed & the entire gov't is shocked & saddened by the barbaric killing of Mr Deep Kamara & his 2 Ethiopian colleagues. Our thoughts and prayers are with their families & everyone at Dangote. The gov't has started investigation & will bring the preparators to justice
- Fitsum Arega (@fitsumaregaa) May 17, 2018
According to Belachew, the Ethiopian Investment Commission will work closely with relevant federal and regional authorities with a view to enhance the security and safety of investors in all parts of the country. We will also work closely and cooperate with the Dangote Group to help the enterprise cope up with this tragedy and continue to realize its vision of 'powering Africa's growth as the largest indigenous industrial conglomerate in sub-Saharan Africa.'"
A member of the Dangote Group, Dangote Cement is "Africa's leading cement producer with operations in 10 African countries, revenues of US$2 billion in 2016 and nearly 17,000 employees," according to company information."
Located in West Shewa Zone of the Oromia regional state, in Ada Berga District, Mugher Town, 85 km west of Addis Abeba, Dangote Cement Ethiopia started operation in May 2015. It soon became the largest producer of cement in the country. However, the 2.5Mta plant near a "rich limestone reserves of about 223 million tonnes [and which is] capable of producing high-quality 32.5 and 42.5-grade cements" soon ran in to trouble in the midst of 2016-2017 Oromo protests during which protesters have torched its trucks and machinaries on various occasions. A dispute on labor and raw material supply also forced the factory to threaten to suspend operations. But with the help of regional authorities, local elders and the factory itself a reconciliation took place in September 2017. During the ceremony the local have given Mr. Kamra an Oromo name "Gallata".
Things have since been "functioning smoothly," according to a senior official with the regional administration. "We are deeply shocked, but also frustrated that something like this happened at this moment," he said.
A recovering confidence
During the four years Oromo protests, Ethiopia's economy took the hardest hit in the last 27 years. Despite the setbacks, however, "over the past years, the Government of Ethiopia has been working in earnest to attract foreign direct investment (FDI) as we believe in the catalytic role FDI can play for job creation, technology and skills transfer, export competitiveness and economic diversification, thereby contributing to inclusive economic development", Belachew said. "FDIs are also playing a key role in increasing the country's foreign exchange supply through inflow of capital in foreign hard currency and export earnings."
Investors on the ground understand the challenges but also the immense opportunities Ethiopia offers, according to Addis Alemayehou, founder and manager of 251 communications, a leading company in branding, designing and PR works. According to him, these challenges "are well known in that key changes in policy that is more private sector friendly is needed; our doing business rankings reflect the challenges of bureaucracy faced at most levels of Government and lack of financing and forex are some of the key points." But "I am 100% optimistic about the future of the country especially given our new administration in place, which I feel understands the concerns of the private sector and is willing to be innovative."
But the killing at this moment of the Dangote staffs is "very unfortunate incident and one that is very rare in our Ethiopia," Addis said, adding "although it saddens me personally as I knew the people that were targeted personally, I also know full well that this is not the norm in Ethiopia and will never be the norm. What makes Ethiopia secure and safe is the people and culture that we have. I have faith in my people more than anything."
The EIC and all other government agencies have worked tirelessly to build a national brand and place Ethiopia as a preferred investment destination in the international platform, Belachew maintains. "In the past five years, FDI inflow to Ethiopia has increased by more than fourfold from around US$1 Billion to over US$4.2 Billion in 2016/17. This has placed Ethiopia as one of the largest recipients of FDI in the African continent."
Like Belachew, Addis too expressed his confidence in the government to bring "an immediate solution." But beyond bringing those responsible of the killing to justice, Addis said it was important to communicate "what measures [the government] plans to make going forward so investors in Ethiopia as well as those seeking to come and invest understand and feel secure that this will never happen again and will not be tolerated."
"This tragic incident is unprecedented and is not in keeping with the track record of Ethiopia as a nation of peace, stability and a society very hospitable to foreigners," Belachew said. But he also stays firm on the positive progresses the country has registered in the recent past . "While we have registered significant successes, we are continually working to alleviate some major challenges around shortage of forex, trade and logistics services, and the provision of utilities for a growing manufacturing sector." AS