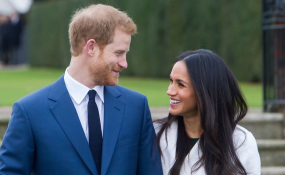 Photo: Kensington Palace/Instagram
Who is Meghan Markle?
If she were auditioning for the role of a lifetime, it would seem she has won the part. Meghan Markle, the actress, yoga-lover and now fiancée of Prince Harry, has stepped officially into the warm embrace of the Royal Family, crossing the Atlantic to start a new life. Her life will be made even better this coming weekend when the Royal wedding kicks off and the stunning actress receives a new royal title.
Born Rachel Meghan Markle in 1981, she spent her formative years in Los Angeles with her parents: a yoga teaching, social worker mother and Emmy-winning lighting director father.
Far from sheltered, she has spoken frankly about the effect of seeing the 1992 riots following the police beating of Rodney King, and has disclosed her confusion in finding her path as a mixed-race child. At 36, she is three years older than Prince Harry and - unusually for royal brides - has already lived a substantial independent life pursuing a career she would have been happy to continue had fate not stepped in.
According to her own description, given in 2016 before she scaled back her public life, she is, "an actress, a writer, the editor-in-chief of my lifestyle brand, The Tig, a pretty good cook and a firm believer in handwritten notes". A yoga devotee, she enjoys a fine wine and occasional hearty pasta, and attracted a following for a picture-perfect Instagram lifestyle starring pet dogs, stylish friends and wholesome nights in.
A self-confessed romantic at heart, she has blogged intriguingly on topics from spending Valentine 's Day alone to healthy living, featuring green juicing, organic food and a daunting devotion to "wellness".
An embarrassing episode with father of the bride
Earlier this week, in the lead up to Prince Harry and Miss Markle's wedding, there were embarrassing revelations that Meghan's father, Mr Thomas Markle, secretly posed for pictures showing him being 'measured' for his wedding suit and browsing articles about his daughter and the Queen's grandson in an internet cafe.
The Mail on Sunday reported that Mr Markle, 73, an award-winning former Hollywood lighting director who now lives a reclusive life in Mexico, had worked with US-based photographer, Jeff Rayner, to set up the lucrative photo deal.
CCTV footage showed Mr Markle arriving at an internet cafe with the photographer.
Minutes later the pair are seen preparing to snap the future royal's father while he is sitting at a computer. A Mail on Sunday investigation established that the internet cafe pictures are just part of a series Rayner took of Meghan's father. They have been published in newspapers, magazines and on websites around the world.
Mr Markle and Rayner, a 44-year-old Los Angeles-based photographer, reportedly set up at least four photoshoots. There was some concern Sunday over Mr Markle's ability to cope with the pressure of this week's royal wedding.
It is understood that he has long 'struggled' to handle the immense global interest in his daughter's romance. Thomas Jr told the Mirror: 'People are quick to judge but they have no idea how much scrutiny we live under. 'Ever since Meg's relationship with Harry was made public two years ago we have lived our once normal lives under the spotlight every second.'
And he is said to be feeling 'significant stress' about this week's events, which will see him travel to the UK, take tea with the Queen and meet up with Meghan's mother, his ex-wife Doria Ragland.
About the mother of the bride
All eyes will be on Meghan Markle come May 19 when she walks down the aisle of St. George's Chapel to marry Prince Harry. But they will also be on her 61-year-old mother Doria Ragland, who, as the mother of the bride, will share in the royal spotlight, just as Carole Middleton did back in 2011.
Ragland will also have a special role in the wedding. On the morning of May 19, she will ride in the car with Meghan to the chapel. According to Kensington Palace, "Ms. Markle is delighted to have her parents by her side on this important and happy occasion."
Markle is Ragland's only child. She and Tom Markle divorced when their daughter was six-years-old, but the marriage reportedly ended amicably. Markle, who is Ragland's only child, lived with her mother after her parents' split, but saw her father regularly.
By all accounts, Markle and her mom appear to have an incredibly close relationship.
The reception
Prince Harry and Meghan Markle will not have a sit-down wedding breakfast after their ceremony on Saturday - but have plumped for trendy 'bowl food' instead.
Their 600 guests will be standing up in St George's Hall at Windsor Castle when they are served seasonal 'mini main courses', made by the Queen's kitchen staff and presented to them by liveried waiters and waitresses.
Bowl food has become a popular choice for business events because it is more sociable, allowing guests to mingle and network while eating.
However, it is a somewhat more surprising choice for a royal wedding. Still, Harry and Meghan hope that it will make the occasion less fussy and allow them to move around the room greeting as many guests as possible.
Guests will also feast on canapés during the lunchtime reception, which will last around two and a half hours and includes speeches and cutting of the cake. Each morsel has been crafted to be consumed in just two delicate bites.
The Queen is officially hosting the event and Buckingham Palace staff revealed that the menu would comprise 'classic dishes' made from seasonal British produce, much from the monarch's own estates.
Harry and his bride-to-be have tasted and selected their wedding reception menu.
The couple apparently visited Windsor Castle to sample menu suggestions in the Great Kitchen, which dates from the reign of the 14th century monarch Edward III.
Mr Flanagan would not discuss the dishes in detail but produce such as asparagus, peas and tomatoes are in season, providing a wealth of options for the chef, who has worked with some of the world's best, including Michel and Albert Roux.
A separate dinner for 200 is being held at Frogmore House by the Prince of Wales later in the evening.