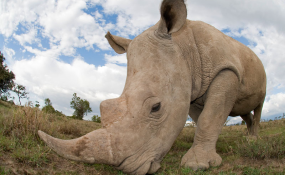 Photo: Mark Carwardine/WWF
By Allan Olingo
A southern white rhino has conceived through artificial insemination, increasing hopes of saving the northern white rhino subspecies.
Researchers at the San Diego Zoo Safari Park in California, USA, announced on Thursday that the seven-year-old female southern white rhino christened Victoria is pregnant and she will now be watched over the next year-and-a half to see if she will successfully deliver a calf.
This has been seen as a big breakthrough, as it is the first step towards saving the northern white rhino species through artificial insemination. The last known northern white rhino, Sudan, died at the Ol Pejeta Conservancy in Kenya, two months ago.
"The corroboration of this pregnancy through artificial insemination is not only historic for our organisation but also provides a critical step in our effort to save the northern white rhino that is at the brink of extinction," said Barbara Durrant, director of reproductive sciences at the San Diego Zoo Institute for Conservation Research.
Victoria is one of the six rhinos that researchers at the institute are testing to find out whether they will make good surrogates that could save the northern white rhino subspecies. They already have frozen 12 stem cells from the northern male rhino.
"We spotted limbs during her recent ultrasound scan, which indicates that she is two months pregnant. Now we wait for her to carry the pregnancy to term before trying to implant the northern white stem cells into them as a surrogate," Ms Durrant said.
She added that the six females undergo weekly ultrasound scans, as the researchers seek to perfect the artificial insemination and embryo transfer technique on the southern white rhino females.
They aim to create a population of at least 15 northern whites, a process that could take more than two decades. They hope these will be returned to roam their natural habitat in Africa. At their peak population, the northern white rhino is said to have roamed the Central African Republic, South Sudan, Uganda and Chad.
Sudan, who died at the age of 45 had been ailing since December 2017. He was being treated for age-related complications that led to degenerative changes in muscle and bone, combined with extensive skin wounds.
The team of veterinary doctors, from Dvr Králové Zoo, Ol Pejeta and Kenya Wildlife Service (KWS), was forced to euthanise him.
Sudan's death left just two female northern whites on the planet; his daughter Najin and her daughter Fatu, who remain at Ol Pejeta.
The only hope for preservation of this subspecies now lies in developing in vitro fertilisation (IVF) using eggs from these two remaining females, stored northern white rhino semen from males and use surrogate southern white females.
The northern white, which gained international prominence after it emerged that a team of scientists in 2016 were trying to harvest its sperm in a bid to preserve the species from extinction is said to have resumed normal movement and foraging habits over January to mid-February.
In December last year, veterinarians, conservationists and wildlife managers from the Czech Republic, Kenya, the UK and South Africa met to discuss the next steps in a groundbreaking procedure to save the northern white rhino from extinction.
A southern female white rhino is now expected will act as the surrogate mother through an artificial reproduction technique, a procedure that has never been before attempted in rhinos.
Under supervision of the KWS, the ovum pick-up is expected to be conducted on Najin and Fatu in Kenya later this year, and if successful, their eggs will be shipped to a laboratory in Italy.