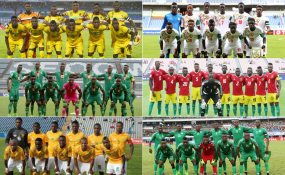 Photo: allafrica.com
By Peter Kamasa
VINCENT Mashami, the head coach of the national junior men's football team, has hailed the youngsters for their character and willingness to learn despite a second round exit in the qualifiers for the 2019 Africa U-20 Nations Championship.
The Junior Wasps were eliminated by reigning champions Zambia, 3-1 on aggregate. The Junior Chipolopolo defeated Rwanda 2-0 in Kigali in the first-leg before both sides played out a 1-all draw in the return leg in Lusaka on Saturday.
The hosts took the lead in the 56th minute through Francesco Mwepu before it was cancelled in the 73rd minute.
Consequently, Zambia are through to the ultimate qualifiers round and will face the winners between Sudan and Burundi. By press time, the two sides were supposed to lock horns at Al-Hilal Stadium in Khartoum on Sunday evening.
While talking to Times Sport on Sunday, Mashami admitted he was not happy with the exit but hailed the performance of the boys in Zambia.
"It was a great performance, but we still have a lot of work to do so we can do better against big teams. Nonetheless, I am proud of the boys and how they played the second leg."
Late on during the game, Lague Byiringiro gave Zambia a scare but his header from close-range went wide before the hosts wasted a valuable chance to put the contest to bed when goalie Fiacre Ntwari saved a Mwepu penalty in the 85th to ensure the game ended with shared spoils.
Steam was sucked out of Rwanda in stoppage time when skipper Prince Buregeya was sent-off, leaving the 2009 hosts only to wait for the next qualifiers in two years' time.
"The youngsters were courageous and brave. This is a learning process and I was impressed with their talent. They are going to be household names in the Rwanda football soon", said Mashami.
Saturday
Zambia 1-1 Rwanda (3-1)