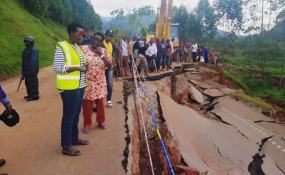 Photo: The Independent
By Rajab Mukombozi
Uganda National Roads Authority (UNRA) has suspended traffic along Katuna-Rwanda road after a section of it at Kyonyo, 3Kms to the Rwanda border, collapsed leaving hundreds of motorists stranded.
The suspension was on Saturday evening directed by UNRA executive director, Ms Allen Kagina who had gone to assess the damage.
Accompanied by Mr Dickens Bindeeba, the Kabale District Police Commander, Ms Kagina said the road remains risky for motorists.
"Right now, traffic along this road has been stopped. No motorized traffic on this road because it's not safe. Motorists are advised to use Ntungao-Mirama Hills-Kagitumba road. We are working with police to direct motorists to the alternative routes," said Ms Kagina.
She explained that the road collapsed on Friday night and could have been caused by weather changes especially heavy rains that caused the landslides.
But the UNRA regional manager South Western Ms Benice Kiganda said they also suspect tectonic forces since the road is in a volcanic area citing a similar occurrence in Rwanda few weeks ago.
"We are going to do more investigations and find out exactly what could be the cause but we suspect tectonic forces since this is a volcanic area. Four more other sections, two on Kabale -Ntungamo road and Kabale-Katuna road are showing similar signs," said Ms Kiganda.
Ms Kagina said they already have a team on the ground moving to fix the road.
Mr Bindeeba noted that the suspension has already been enforced and no motorists should use the road until further notice.
Mr Girivasi Mfitimukiza, a driver from Rwanda said they will have to incur extra costs if they are to go back to Ntungamo which is about 60 kms longer.
He appealed to UNRA to create a diversion like their counterparts in Rwanda did when they experienced the same.