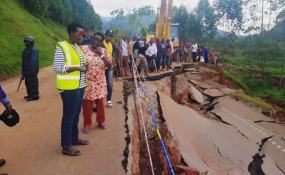 Photo: The Independent
By Julius Businge
Katuna, Rwanda — Business at Katuna border will soon be back to normal after the government of Rwanda intervened to make repairs on a section of the Katuna - Kigali road that was washed away by rains on May 15 at a place called Mwanjale, Kabura village.
Officials in Rwanda have not stated the exact date when repairs will be complete.
The damaged part, which is about 4 kilometers from the border into Rwanda, forced customs authorities for both countries to divert heavily loaded trucks to Mirama Hills border to be able to get to Kigali, Rwanda and to other destinations.
This move meant that trucks from the Ugandan side that had reached the Katuna border before the road collapsed were to drive back for an extra over 30 kilometers to Mirama Hills and then to Kigali, Rwanda.
"We are here stuck and our money is getting finished," a truck driver who had spent two days at the Katuna border told a group of journalists that visited the border on May 17.
The driver added that diverting traffic to Mirama Hills meant that they would drive on a bad road to Kigali, hence increasing expenditure on fuel and related costs.
The temporary move excluded buses and light motor vehicles.
In an interview with journalists on May 17 at Katuna border, Simon Esunget, the Uganda Revenue Authority officer in charge of customs at Katuna said the incident in Rwanda had reduced traffic at the border by over 50%.
He said that average daily traffic crossing Katuna border in May 2018 before the incident happened was about 300 trucks with an average of 20 trucks entering Rwanda from Uganda and 80 trucks exiting in addition to 40 buses and other small private cars and motorcycles crossing the border from either side.
Earlier in April, a total number of motor vehicles processed and cleared were 8,219 out of which 3, 779 were cleared outwards while 4,440 were cleared inwards.
However, the number of travelers using the border remained unchanged since buses and private cars were not affected by the temporary diversion to Mirama Hills.
Esunget said a big number of clearing agents and money changers also followed their clients to Mirama Hills.
He said that the border faces challenges related to delayed completion of the construction of the One Stop Border Post (OSBP) that is largely funded by development partners through TradeMark East Africa. He said the delay has continued to affect service delivery at the border as traders have no waiting area or shade, border agencies continue to work independently and clients have to stop twice at the border.
Mirama border gets busy
Meanwhile, the move to divert traffic for loaded trucks made the nice looking Mirama Hills OSBP get more clients at both Uganda and Rwanda clearing sides.
Ronald Mugisha Kwezi, the URA officer in charge of Mirama Hills border said by May 15, the total number of trucks cleared at the border had increased from nine per day to 77. The following day, May 16, the number had increased to 124 trucks.
"Mirama is in business," Kwezi said adding, "We are fast when it comes to clearing of goods."
He said that the Mirama Hills OSBP is currently working for less than 24 hours because the traffic has not increased as much as it has done at Katuna. Kwezi said that they face challenges relating to limited space for parking vehicles (space cannot accommodate 50 trucks) at the border.
The two borders - Katuna and Mirama - facilitate the movement of goods including petroleum products, coffee, tea leaves, maize and other food items valued in billions of shillings annually.
Quick facts
Mirama Hills: It is located in Ntungamo District, Ankole sub-region. The town is at Uganda's border with Rwanda and lies very close to where the borders of Uganda, Rwanda, and Tanzania intersect. It is approximately 350 kilometres by road, southwest of Kampala, Uganda's capital city.
Katuna: It is located on the Ugandan border with Rwanda, in extreme southwestern Uganda. The town is located in Kamuganguzi Sub-region, Ndorwa County.