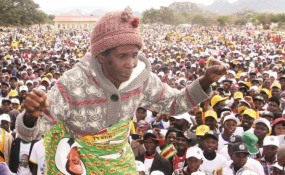 Photo: The Herald
By Kenneth Nyangani
President Emmerson Mnangagwa yesterday said he will proclaim the date for this year's general elections in two weeks' time.
Mnangagwa told a rally at Sakubva Stadium in Mutare after he officially renamed 3 Brigade Barracks in the eastern border city after the late liberation war hero Herbert Chitepo, who hailed from the same province.
"At the end of the month, l can't say the exact date today, but at the end of the month we are going to make a proclamation of the election date as Zanu PF," he said.
"We are going to make a proclamation and we will come to Manicaland and start our campaign.
"Since November last year, we want to thank you for the peace.
"l was a border jumper last year, but l am happy that the transition was done peacefully, our former president [Robert] Mugabe stepped down and the central committee elected me as the president and then started the new government."
According to legal experts, Zimbabwe must hold elections between July and August.
Mnangagwa was catapulted to the presidency last year after Mugabe was toppled through a coup. A few days before the coup the new Zanu PF leader escaped from the country through Forbes border, following his dramatic expulsion from government.
Mnangagwa told yesterday's rally that Zimbabwe was lagging behind economically and his re-engagement strategy was meant to spur economic revival.
"We now have our land, we need to have our land productive, yes we have friends, but we need to have more friends to help our country, so that we can prosper economically," he said.
"In the last few years, our economy was down and we took a basket of currencies, we did not manage to get lines of credit because of the sanctions.
"In Zimbabwe, we have many resources and if we use them wisely, by 2030 the country would be a middle income country.
"We have a programme to modernise our agriculture, we must make sure if there is adequate rains we can feed the country."
Mnangagwa said his government wanted to ensure that locals benefited from the diamond wealth in Manicaland.
"Manicaland is gold country, it is also diamond country, we had six or seven companies we stopped them from mining," he said.
"We now have one company, the Zimbabwe Consolidated Diamond Company, which is failing to meet its target.
"We are investigating the policy of diamonds in the country. We need the community of Marange to be supported through the exploitation of the diamonds.
Mnangagwa also addressed another rally in Buhera where he commissioned Marowanyati Dam.