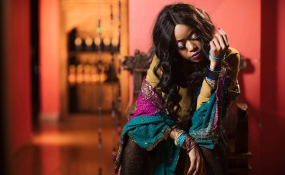 Photo: Ray C/Instagram
By Thomas Matiko
One-time talk of the town in Tanzania, Ray C, has sensationally claimed that there is no such thing like gospel music in Kenya.
Ray C, who has been living in Kenya since December 2017 when she came for a tour gig at the Coast, has also claimed that Kenyan artistes change with the dynamics of the market regardless of whether they are in gospel or secular music.
Her claims come in the backdrop of a raging debate and criticism on the kind of music local gospel artistes have been releasing, which clearly appear to be secular, and not gospel as claimed.
Ray C made the remarks during a recent local TV interview when responding to a question on whether gospel artiste Papa Dennis has switched to secular music.
"Actually he (Papa Dennis) is doing both. Halafu Kenya hamna muziki wa injili. Huku watu wanakwenda na upepo, sijui wanaangalia masuala ya kibiashara au vipi. Ila Tanzania huwezi kufanya hivyo ukaimba injili halafu ukwende huku kwingine, watu hawatakuelewa," said Ray C.
COLLABO
Ray C and Papa Dennis recently released a collabo - a love song titled Tornado.
The songbird, who rose to fame with hits such as Mama Ntilie and Umenikataa, had her flourishing career as an energetic entertainer cut short after she plunged into drug addiction.
She later blamed her drug addiction on her ex-boyfriend rapper Lord Eyes, who she claimed introduced her to the habit. Over the years she has been fighting the addiction.
Even though she is gotten better, her effort to reclaim back her spot in the music industry has not been fruitful. Her return to the music industry has not excited passion back in Tanzanian where she is no longer adored as she once was.
It is for that simple reason that Ray C appears reluctant to go back home, instead preferring to stay in Kenya where she feels appreciated.