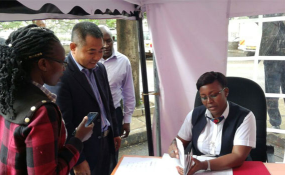 Photo: Capital FM
By Joseph Muraya
Nairobi — All foreigners working in the country have been directed to register afresh for their work permits within the next 60 days or face arrest.
Interior Cabinet Secretary Fred Matiangi stated that the process will be seamless and a digital record will be established.
He emphasised that after July 21, a manhunt will be launched to arrest those in the country illegally.
"Is it fair for us to use our hard earned resources to the tune of Sh360 million to buy air tickets for people who are in our country illegally to go back. It is not fair. So we are asking them, they also have 60 days to either apply for regular status and get a genuine work permit or tell us good bye and leave because after that, we will arrest them, take them to court and charge them with being in the country illegally," he said.
He said a lot can be done with the Sh360 million.
"We can improve some of our border posts. You know as well as we do that some of these posts need to be improved. We have a register of 34 border posts in the country yet we are not able to man all of them. If you gave me the Sh360 million, I will improve them and we will do more," he stated.
He explained that he will be proposing an amendment to Parliament to ensure those who are found in the country illegally pay for their tickets back home and at the same time put on notice immigration officials trading work permits.