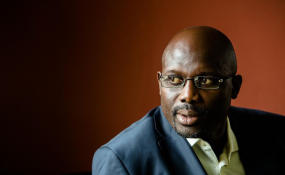 Photo: George Weah
From all indications, President George Manneh Weah is ready to flex his muscles against any official who will engage in act that is unacceptable to him irrespective of how closed that person is to him.
As a mark to demonstrate his fearlessness to take decisive decision, the president over the weekend struck Deputy Minister of Commerce for Small Business, Jemima Wolokollie with indefinite suspension.
A statement from the Executive Mansion said the president's decision is based on Madam Wolokollie's insubordinate attitude towards her boss, Minister Wilson K. Tarpeh.
The Executive Mansion further said the president's decision is based on the deputy minister's 'unprofessionalism' on the job.
President Weah is quoted in the Executive Mansion statement as emphasizing the need for all deputies to accord the highest respect and courtesy to their leaders; and refrain from taking internal disputes and/or disagreements to the public space for redress.
The President further encouraged all subordinates to practice utmost professionalism in conducting their duties and the need to follow the proper channel in addressing disputes with their leaders.
Madam Wolokollie recently accused Mr. Tarpeh of conniving with shady foreign businesses in the country at the detriment of Liberian-owned businesses.
In her staggering claims made last week to the media, Wolokollie accused Tarpeh of antagonizing her because of her stance against his shady dealings that contravene the government's pro-poor agenda.
"I'm asking my boss for him to open the market for Liberians to be able to do rice, for Liberians to be able to do petroleum, for Liberians to be able to bring in onions, and he has refused," she alleged. "It is very disturbing; why is Professor Tarpeh giving me problem?"
She claimed Minister Tarpeh was blocking all her efforts to prioritize the interest of Liberianization - a policy that provides exclusive trade and commerce privileges for Liberian entrepreneurs - and does not want her to succeed in her functions.
Despite her outburst, Minister Tarpeh chose not to comment on the allegations; apparently doing so would be giving relevance to her allegations.