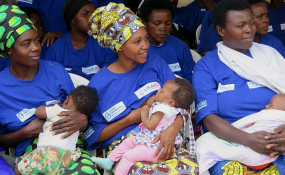 Photo: New Times
By Jean De Dieu Nsabimana
A new maternity ward worth over $280,000 (approximately Rwf240m) was on Friday inaugurated at Rwinkwavu Health Centre in Kayonza District, officially bringing to an end a week dedicated to mother and child health.
The new maternal healthcare facility is expected to improve maternal health care in Rwinkwavu, and surrounding areas.
The event was attended by officials from Rwanda Biomedical Centre (RBC), district officials, notably Partners in Health who funded the infrastructure; and Jacqueline Mukakanyamugenge, a Member of Parliament, who was the guest of honour.
Eugene Kayijuka Kajuga, the head of Rwinkwavu Health Centre, said that although every health centre is supposed to have maternity services, the facility was among the missing units in the area.
Started on April 6 this year, the maternity has already helped 76 women give birth, as reported by Kajuga, and, over the same period, the facility offered pre-natal services to more than 120 expectant mothers. At least three women give birth on average every day, he said.
Verdiane Nyirahabimana, a resident of Rwinkwavu and mother of three who had given birth from the maternity the previous night, said there is a difference between delivering from home and at a hospital.
"There are people in our community who used to have trouble giving birth at home, when they failed to deliver the afterbirth," she said.
"When you deliver at the hospital, your child is given appropriate care; you also leave the hospital after the child is vaccinated. This maternity is going to be useful to us," she said.
Speaking on behalf of the Ministry of Health, Dr Innocent Turate, Head of (IHDPC) Institute of HIV/AIDS Disease Prevention and Control at RBC, said the state of maternal health is not yet at the level desired by the ministry, but that "a lot has been done to fight maternal and under five year children deaths, it has a great result and our effort has paid off."
"We are not any closer to our target, but getting maternity facility at the health centre, just near people's households, helps the Government and the Ministry of Health in particular to achieve the goal of putting a stop to maternal deaths," he said.
Impact of mother-child health week
Turate said that the Mother-Child Week provides an opportunity to mothers who did not have their children vaccinated.
"It increases sensitisation against major diseases, including malaria and diseases caused by lack of hygiene.
"Most services were given to those parents who were not able to access family planning services, while children who missed vaccinations, were vaccinated during this week," he added.
Preliminary numbers show that, from Monday to Thursday last week, the maternal-child health week had seen 42,000 people get family planning services.
Turate said it was established that 19 per cent of the mothers had not been able to get family planning services before the outreach drive.
Among other services, 1,200,000 children were given vitamin A supplements in four days, at 76 per cent of the expected number.