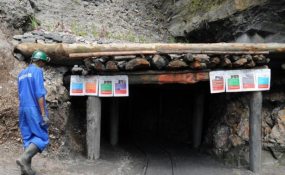 Photo: New Times
By Jean De Dieu Nsabimana
At least five households in Nyarusange Cell, Muhazi District in Rwamagana District are to be expropriated due to a nearby tin mining concession which authorities say exposed them to dangers.
The expropriation was ordered by the district authorities after residents expressed concern about their safety after hearing tin mine being dug from under their houses.
The expropriation is to be done by MMB Mining Company, the owners of the concession.
"For residents' safety reasons, expropriating nearby households was the right decision, even though the mining activities may now still be far from houses," said Rwamagana District mayor Rajab Mbonyumuvunyi.
The district made the decision on the recommendation of a team of engineers that visited the site, according to the mayor.
"They had already expropriated some few houses before, but now we are urging them to get those people out of the area since staying would put their lives in danger," he said.
The company has been operating in the area since August 2016, according to David Hakizimana, a mining officer at Rwamagana District.
Jean Claude Rurangwa, the site manager of MMB Mining Company at Nyarusange, said the district had known the problem before them.
"We normally have a good relationship with residents here and we never had any problem with them. I believe that they should have told us before, since we also dig under their farms," he said.
"We follow mining rules, this is an authorised mining company, we will do what we are required to do in this case," said Rurangwa.
The residents expressed willingness to leave the place as long as they are paid.
Rwamagana is one of the districts that are rich in minerals and is mostly rich in tin, wolfram, and tantalum, among others, with concessions located in Fumbwe, Karenge, Musha, and Mwulire sectors, and Muhazi.