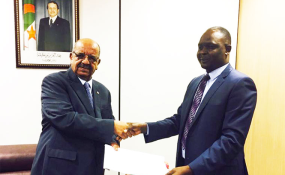 Photo: The Observer
By Misairi Thembo Kahungu
Kampala — The Ministry of Foreign Affairs has frozen accounts of Uganda's embassy in Algeria until a forensic audit is carried out to assess how finances disbursed by the government are spent by the mission, Daily Monitor has learnt.
The decision was communicated in a May 14 letter issued by Mr James Kintu, an undersecretary in the Ministry of Foreign Affairs, on behalf of the Permanent Secretary, Mr Patrick Mugoya.
In the letter seen by Daily Monitor, Mr Kintu directed that neither the ambassador, Mr Alintuma Nsambu, nor his staff should spend any money until the auditors arrive in Algiers at the end of this month.
"No one of the parties should for the time being attempt to transact any more until the team comes over at the end of month. Any attempt to defy this ...measure will attract serious disciplinary proceedings to the perpetrators," the letter reads in part.
Mr Kintu said the ministry received several complaints from Mr Nsambu and the embassy accounting officer, Mr Fred Tushabe, accusing each other of financial impropriety.
Mr Tushabe had reportedly accused the ambassador of withdrawing money for himself whereas Mr Nsambu also separately contacted the headquarters in Kampala to intervene.
Such a practice by which the different mission officials are fighting for powers over the management of the bank accounts has been described as being "against the Public Finance Management Act of 2015 and the corresponding regulations".
Confirmation
Mr Kintu confirmed writing the letter to stop expenditures but referred this newspaper to the PS for details.
However, efforts to get a comment from Mr Mugoya were futile as his known telephone number was switched off.
Despite the freezing, Mr Tushabe wrote a letter pleading with the ministry to allow him clear the rent areas for the financial Attaché, saying failure to clear them would paint a bad image of Uganda.
Indebted
Our investigations reveal that the embassy is highly indebted after failing to clear accommodation rent arrears for some of the staff, payment of salaries and other utilities, among others. Sources at the embassy who preferred anonymity because they are not allowed to speak to the media, said some of the staff have not been paid since January. This newspaper has since seen a copy of an internal memo in which Mr Denis Kalikola, the mission's second secretary, briefed the ambassador about the debts worth €7,918 (about Shs34.5m). The debts include allowances, electricity, water and Internet bills.