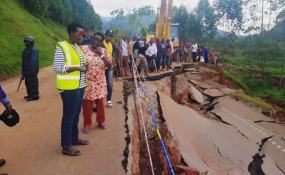 Photo: The Independent
By Robert Muhereza
Kabale — Uganda National Roads Authority (UNRA) has closed Kabale-Katuna road that connects to Rwanda after a section of the road collapsed on Friday night, about three kilometers to the border.
The cause of the fissure remains unclear. Officials said geologists had rushed to establish if the sudden damage was triggered by displacement of tectonic plates in the earth amid fears of volcanic activity in the area.
Mr David Tumwine, 60, a Katuna Town resident, said the collapsed section was previously a shallow well that was filled with stones and gravel to create a road embankment.
"In the 1990s, the government contracted some contractors that used some geotextile materials on the same road section to prevent it from collapsing after knowing its history of being a shallow well," Mr Tumwine said.
Geotextiles are permeable fabrics which, when used in association with soil, have the ability to separate, filter, reinforce, protect, or drain, according to Wikipedia.
Mr Tumwine said it was likely that Reynolds Construction Company, which rebuilt the highway in 2010, may have forgotten to fix the geotextile materials, leading to the Friday collapse.
We were unable to the construction firm over the matter.
The UNRA executive director, Ms Allen Kagina, after assessing the damage, attributed it to heavy rains and said: "Right now, traffic along this road has been stopped, no motorised traffic on this road; it is not safe."
Deployment
Police and the roads authority deployed officers to clear the debris and guide motorists on the alternative Ntungamo-Mirama Hills-Kagitumba Road.
Mr Moses Mawanda, a long-haul driver, said he has parked at Katuna for two days because he does not have enough fuel to drive back to Mirama Hills, about 100 kilometres from Katuna, in addition to 200Kms from Mirama Hills to Kigali where he is to deliver merchandise.
"I will keep here until the collapsed road section is worked on...From Katuna where we have parked, our vehicles are just 94 kilometres to Kigali city," he said.
Another driver, Mr Musa Mwasa, said he is paying Shs4,000 per night to the Katuna Town Council authorities, besides additional expenses on meals and accommodation.
Traders and authorities at Katuna, as the border on Ugandan side is called, said they were incurring losses due to low business volumes and diversion of Rwanda-bound traffic via Mirama Hills in Ntungamo.
Irish potato traders at Katuna said the diverted long-distance truck drivers were their customers.
"For two days now, I have not sold a single bag of Irish potatoes because the long-route drivers that have been our daily customers cannot cross into Rwanda through this border. I have been selling three bags of Irish potatoes, each at Shs100,000," Ms Lydia Ninsima, a trader, said.
Katuna chairman Nelson Nshangabasheija said his council is losing revenue because the trucks on which they have been charging parking fees per night have been diverted.
"It is our prayer that the collapsed road section is worked on as soon as possible so that we can get back to business. Business at Katuna is dull," he said.
Some clearing agents have been rendered jobless while 18 have relocated to Mirama Hills, their chairman, Mr Sam Serwanga, said.
Meanwhile, those whose vehicles were cleared to go to Kigali through Katuna border are stuck because they risk being penalised for dumping if they opt to cross via Mirama Hills.
Their customs records show they should pass through Katuna.
"We appeal to the government of Rwanda to create a diversion because it is a short distance compared to going back to pass through Mirama Hills border entry. Some clearing agents are now jobless because there is literary no business at Katuna," Mr Serwanga said.
"We are doing our best to ensure that there is access and normal traffic flow on this road as soon as possible. The road is currently temporarily closed for all vehicles until the damaged road section is fixed," Mr Augustine Kabanda, UNRA's Kabale station engineer, said.
Mr Kabanda said they contracted Universal Engineering Ltd whose director Tomsom Agaba said should be able to fix the collapsed section within two days as the government works out a longer-term solution.
The road section in Uganda caved in after a similar crack on the Rwandan side, which left 100 cargo trucks and passenger service vehicles stranded at the frontier.
Katuna customs point clears about 300 vehicles each day but that number has halved since the collapse of the road section in Rwanda, Mr Simon Esunget, the head of customs there, said.
However, Mr Esunget said the border is still open for business 24 hours to mainly clear buses and small cars.
By yesterday, some 50 incoming trucks were stuck in Katuna.
The head of immigration at Katuna, Mr Bob Mukembo, said people's cross-border movement had not been substantially affected.
The Kabale LC5 chairperson, Mr Patrick Keihwa, said the government should expedite the remedial works since the highway is the artery for Uganda's business with inland Rwanda, Burundi and DR Congo.
Mr Mark Mugisha Singura and Ms Mable Kishatura, both residents, said the damaged road section had no visible crack but they were surprised it suddenly collapsed.
Additional reporting by Rajab Mukombozi