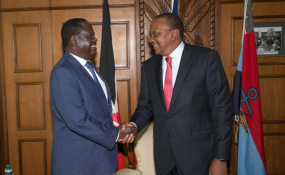 Photo: Daily Nation
By Patrick Lang'at and Samwel Owino
Opposition leader Raila Odinga returns home on Wednesday after a week-long trip to London, but he will be welcomed, not by the amity he left behind, but growing political animosity that is putting his unity pact with President Uhuru Kenyatta to the test.
The Orange Democratic Movement (ODM) leader comes back just three days after President Kenyatta rebuffed his call for a referendum to change the Constitution if their March 9 deal is to succeed, and also to alter the structure of the Executive and devolution.
As Mr Odinga prepared to board the plane from London on Tuesday, his ODM lieutenants were, for the third day running, trading barbs with Deputy President William Ruto, whom they accuse of attempting to use the handshake to his advantage in the 2022 State House race.
CRITICISM
But Mr Ruto was not taking the criticism lying down and, speaking in Mombasa, said: "Incompetent people who cannot formulate any meaningful development programme" and others who "lose elections" want to use the Constitution irresponsibly.
Apparently buoyed by President Kenyatta's stand that Jubilee is currently only focused on his Big Four agenda -- food security, affordable housing, universal healthcare and manufacturing -- and not the referendum, Mr Ruto has gone all-out on Mr Odinga, whom on Sunday he called a dictator who cannot get the formula of winning elections right.
Mr Odinga's ODM hit back on Monday, accusing the DP of being Kenya's number one enemy who stands little chance of succeeding Mr Kenyatta because of his "character, bad record in office, and the perceptions of the general public".
STRENGTHEN DEVOLUTION
According to Mr Odinga, the nine-point agenda he and President Kenyatta agreed on to address ethnic antagonism, lack of national ethos, inclusivity, strengthening of devolution, ending divisive elections, ensuring safety and security of Kenyans, ending corruption and ensuring shared prosperity, will require changes to the Constitution to actualise.
But Mr Ruto, who has been the most vocal in his opposition to the plebiscite push, argues that such a political event would distract Jubilee from its agenda. Also, he argues, changing the supreme law of the land was not part of the handshake deal. And this, curiously, has become the Jubilee Party's position on the matter.
REFERENDUM
"There will be no referendum between now and 2022," Jubilee secretary-general Raphael Tuju said yesterday, the finality of that statement sending a coded message to Mr Odinga and his stalwarts. "We have had handshakes before. In 2008, Raila and Mwai Kibaki shook hands; but did that reduce the rate of unemployment?
No. The debate we should be having now is how to create jobs for the youth, and nowhere does that discussion include the structure of the Executive."
Mr Tuju told the Nation a referendum would take the country on a political tangent "for at least four years". It will take a year to reconstitute the crippled electoral commission, another year for the new team to settle down and address issues in the secretariat, one year for a national dialogue on the referendum question, and another for campaigns, he said.
"If we are going to conduct a referendum that will take that long, when will we deliver the Big Four?" asked Mr Tuju.
MISSING THE POINT
In Parliament, Mr Odinga's lieutenants Junet Mohamed (Suna East) and Ugunja's Opiyo Wandayi differed with both Mr Ruto and Mr Tuju. "In the fullness of time," said Mr Wandayi, "President Kenyatta will be convinced of the need for a referendum because facts are stubborn, and those linking the referendum to 2022 politics are missing the point."
Mr Mohamed said a referendum would be "best held in 2021 and not now because even the issues to be put in the question are yet to be identified".
"As far as we are concerned, the handshake is firmly in place," said Mr Mohamed. "For now, we are in full support of the Big Four. However, we are aware of an attempt by some Jubilee leaders to add a Big Five -- the 2022 politics -- and they will be in for a rude shock because we will not allow it."
ATTACK THE PERSON
In Mombasa, Siaya Senator James Orengo, who provoked the DP's comments, pleaded that those who are pushing for reforms should be heard.
"Let's not attack the person, but the issue. Don't attack an idea before you hear it out because this is part of what the Constitution provides for," said Mr Orengo.
-- Ibrahim Oruko and Mohamed Ahmed reported from Mombasa