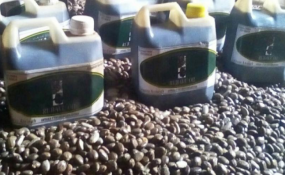 Photo: Michel Nkurunziza/New Times
By Michel Nkurunziza
When Asinatha Uwineza, a mother of three from Nyamyumba Sector of Rubavu District dropped out of secondary school in 2012, she did not think she would have a stable career.
To make ends meet, she gathered her small savings and contributions from friends to start up a small shop around her neighbourhood.
However, this too did not work out as she ended up closing it.
Not one to lose hope, Uwineza began doing research on how to generate income from Ricinus Plant (locally known as Ikibonono), which has for years been used to produce lubricants, especially for medicinal purposes.
The same year, 2012, with about Rwf20,000 as capital, she began a mini-enterprise to make lubricants for engines.
Six years later, the lubricant has since grown in popularity and is used for motorcycles, cars and boats on Lake Kivu.
"I used to read about people who innovate to create jobs just to get inspiration. I read that Ricinus has multi-benefits such as medicine, paint and then I started my trials on producing lubricants from it by mixing its seeds (grains) with lemon by using manual machines that I bought from (DR) Congo. I eventually succeeded in my adventures and have made good income from producing oil over the last couple of years," she said.
Uwineza told Business Times that she started out by producing one litre of the lubricant before increasing to five litres, adding that it was difficult to prove the quality of the lubricants to her clients.
To prove it works, she approached a driver at a nearby construction site and requested him to test the oil in his grinder.
Reaping the benefits
"There were road construction works close to our home. I convinced the driver to test the oil in a road roller (engineering vehicle that compresses asphalt during road construction). He accepted but kept on asking me where I got the oil from. I wanted to see if it could work and not cause harm on the vehicle," she said.
The following day, she said, the driver confirmed that the oil was even better than the one he had been using.
"When I realised that the oil worked well in engines, I began mass production of the seeds. An agronomist from our sector helped me to distribute Ricinus trees to farmers so that they grow them in large numbers and subsequently supply me with seeds," she said. "The trees are easy to cultivate because they can be mixed with other crops such as coffee and others."
The 35-year-old has since trained about five people who she works with at her mini-plant.
Uwineza's work won her an innovation prize of Rwf400, 000 which she also invested in her plant.
"I can currently produce between 60 litres and 100 litres of oil per month," she said, adding that one litre of the oil goes for Rwf3,000. "I also sell a kilogramme of Ricinus seeds at Rwf5,000."
A litre of oil is generated from 4 kilogrammes of Ricinus seeds, she said.
Challenges, way forward
The plant can produce three litres of oil an hour.
With the proceeds from her business she has been able to develop herself, including acquiring residential property.
"I bought a motorcycle from the profits of my business, as well as a plot on which I have already constructed a Rwf15 million residential house. I also bought three pieces of land worth about Rwf10 million and I use part of it to grow Ricinus," she said.
The plant requires about eight months to grow before its seeds can be harvested.
She works with local farmers to get seed supplies and buys them at Rwf350 a kilogramme.
Despite the growth of her business over the recent years, Uwineza still relies on manual methods which limit her production capacity. She also says that to significantly increase her product acceptance on the market, she needs better packaging.
"I do not have up-to-date equipment. I rely on manual methods to run the machines. I need modern equipment, better operational space and good packaging. We also lack enough raw materials, "she said.
The recent heavy rains and flooding in Rubavu have added to her challenges as she lost a significant portion of her plantation.
"I call upon government agencies in charge of research, industrial development and innovation to scale their support to local innovations."