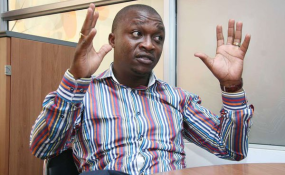 Photo: Daily Nation
By Agewa Magut
Young people will no longer be registered under the Credit Reference Bureau (CRB) for defaulting on loans, Youth Fund Chairman Ronnie Osumba has said.
Speaking during the Youth Economic Dialogues in Nairobi on Tuesday, Mr Osumba said his organisation was working towards getting people between the ages of 18 and 35 years removed from the CRB blacklist of loan defaulters. He said this followed complaints that the listing was keeping them from accessing the Youth Fund loans.
AFFIRMATIVE ACTION
During the event, one of the participants complained that even though he has tried to get a loan from the Affirmative Action Fund to start a business, he was locked out because he is registered as a defaulter by the CRB after he missed a few payments of his Higher Education Loans Board loan.
The young man said he did not know what to do as he had just graduated and was still looking for a job when he was blacklisted.
One is blacklisted after failing to pay back borrowed money by at least 90 days.
BANK LOANS
This applies to loans from banks, Saccos, Helb loans, mobile money loans such as M-Shwari and even borrowed airtime for mobile phones by telecommunication companies such as Safaricom and Airtel.
Mr Osumba also said the fund was looking for ways to ensure that young people in need of money can get it without having to put up something as collateral. He said that since youths do not have property, it does not make sense to ask them to produce valuable items as a guarantee when they seek loans to start businesses.