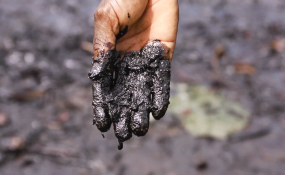 Photo: Amnesty International
By Innocent Anaba
Shell Petroleum Development Company, SPDC, has arrested the judgment in the suit by Ejama community, an Ogoni community in Rivers State, against it (SPDC) and First Bank Limited before a Federal High Court sitting in Lagos over their alleged failure to pay N122 billion judgment debt to the community as ordered by a Federal High Court.
Trial judge, Justice Ibrahim Buba, was to have, yesterday, delivered judgment in the contempt proceeding initiated against First Bank over its alleged refusal to honour the bank guarantee it provided on behalf of Shell and the garnishee order nisi made by an Owerri division of the Federal High Court in respect of the bank guarantee.
But, Mr Chucks Igbenedion, one of Ejama community's counsel, drew the attention of the court to the matter and Justice Buba noted that he had communicated to counsel that Shell had filed a fresh motion, which effectively arrested the judgment, but promised that same would be heard on Friday and judgment delivered.
In the substantive suit, 10 indigenes of Ejama community in Ogoniland, Rivers State, had sued Royal Dutch Shell Plc, Netherlands, Royal Dutch Shell Plc, United Kingdom and SPDC, over oil spills that occurred when Shell operated in the community at the Port Harcourt Division of the court.
Justice Buba, then of the Port Harcourt Division of the court, had in his judgment in 2010, awarded N17 billion to the representatives of the Ogoni people.
The court equally granted the Ogoni chiefs 25 per cent interest charge on the principal sum of about N17 billion.
SPDC then appealed the judgment and applied for a stay of execution of the judgment pending the appeal.
As a condition for granting the stay of execution, the court required Shell's bankers, First Bank to provide a guarantee of the judgment sum.
The community meanwhile, stated that by its calculation and computation of 25 per cent interest charge on the principal sum of about N17 billion, carried out by a chartered accountant, what was due to them is N122 billion.
This figure was however, disputed by First Bank and Shell.
Last week, Ogoni's lawyer, Mr Lucius Nwosu, SAN, counsel to First Bank, Chief Wole Olanipekun, SAN, counsel to Shell all argued their respective applications, with the Ejama community urging the court to send the Bank and its Chairman to prison for contempt and uphold the garnishee order nisi, while the Bank, prayed the court to dismiss the contempt proceeding and also vacate the garnishee order nisi, arguing that the court had no jurisdiction to make same.