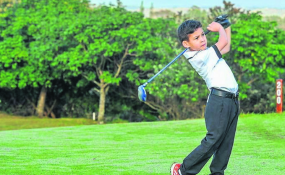 Photo: Supplied
Mozart composed his first symphony when he was 9 years old and Picasso was 7 when he picked up his first paintbrush. But closer to home, Traigh Pathon from Athlone played his first round of golf at the tender age of 4.
Four years later, this 8-year-old prodigy has his sights set on the European Kids Golfing Championship in Scotland, scheduled for May 29.
"I'm very excited to go to Scotland," Pathon said.
Proud father and caddie, David van Schalkwyk, explained that Pathon displayed excellent hand-eye co-ordination from the time he started walking.
"We got him his first plastic set of golf clubs when he was 14 months old and he joined me on the driving range at 3 years old. So he was always exposed to golf," he said.
Pathon is the youngest member of the prestigious Royal Cape Golf Club in Cape Town.
First international tournament
After placing in the top three in his first international tournament last year, he is considered one of the world's most promising young golfers.
Van Schalkwyk says Pathon is under immense pressure when he competes but adds that he always has time to be a child.
"He hasn't participated in a tournament without his mother and me at his side. He's just a child and sometimes all he wants to do is play on his PlayStation," he said.
The young golfer explains that he plays the Rory McIlroy PGA Tour video game to improve his own performance on the field.
His mother, Tiara Pathon, said that she started crying when she first watched him compete at the Africa Junior Challenge in Durban last year.
"I was so emotional when he was placed second on the first day of the tournament, because he was playing with all of these big boys," she said.
"He's very competitive. He wants to win. It's strange to watch him compete. It's like he becomes this machine."
She added that it was not always easy to support her son's love for golf.
"It is very difficult, but a lot of people helped us. I work just to support his golf and for Christmas last year, we got him a second-hand set of clubs," she said.
"The community is also very supportive. I've lived my whole life in Athlone. I went to school here. They recognise him on the street and they always have words of encouragement. There are a lot of people praying for him."
Community service
When Pathon isn't out on the green, he participates in cross country, athletics and does community service.
Last week, he visited Red Cross Children's Hospital in Rondebosch to inspire and motivate his peers.
"He is such an amazing kid. I am so proud of him. I can't even remember what I was doing at his age," his proud mother said.
She's nervous about her son travelling to Scotland for the tournament, but remains optimistic.
"He's been training for this since January. I just want him to have fun and make friends. If he doesn't do well, that will also be fine. There are always other tournaments," she said.
"They always say dynamite comes in small packages. That's exactly what Traigh is."
Source: News24