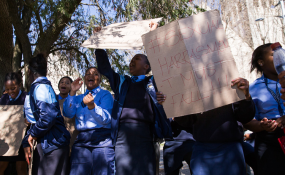 Photo: Ashraf Hendricks/GroundUp
By Annie Cebulski
But MEC Debbie Schäfer demanded Equal Education stop all school activities after sexual misconduct allegations unrelated to learners.
On Monday, Debbie Schäfer, the Western Cape Provincial Minister of Education, told Equal Education (EE) to suspend its programmes amid allegations of sexual misconduct between three of the organisation's leaders and employees. Schäfer cited her concern for learners as the main driver for her request, especially for female learners.
For the past few months a teacher employed by the Western Cape Education Department (WCED) has been teaching at Thandokhulu High School, despite being on trial for sexually assaulting a learner. Also, a video shows the same teacher, Ayanda Ntuthu, beating a student with a belt.
Ntuthu was accused of touching a learner's private parts. He was ordered not to have contact with any of the witnesses, but he still continued teaching at the school where some of the potential witnesses are learners.
The charges against Ntuthu were dropped on Tuesday due to procedural failures: the prosecutor could not locate the witnesses because the investigating officer had been on leave. The case had been postponed five times. Equal Education Law Center (EELC) represented at least one of the witnesses.
EE (which is not the same organisation as EELC) said it will continue to work with learners in the Western Cape despite Schäfer's demand. EE's press statement on Tuesday afternoon called Schäfer's requests "premature and unreasonable" as it ignored the nature of the allegations which did not include learners.
"While we are available to discuss these matters directly with MEC Schäfer, we reject the political opportunism of her media statement and will not cease our important work in the Western Cape," said the press statement.
Schäfer requested that EE suspend its programmes at schools until the organisation could discuss the situation with her. EE responded that Schäfer could not "prevent learners engaging with any association or organisation after hours and outside of school premises". If the request only meant during the school day on school premises, it would minimally apply as EE's programmes are not often on school premises during school hours.
EE said that Schäfer had not ascertained the facts. None of the three members of EE accused of sexual misconduct -- Tshepo Motsepe, Luyolo Mazwembe and Doron Isaacs -- had regular, direct access to female learners in their positions.
GroundUp emailed four questions to Schäfer's office on Tuesday morning and tried to contact her several times during the course of the day. She had not responded by the time of publication. The questions are:
Why was Ayanda Ntuthu teaching after he was charged with sexually assaulting a learner and was on trial?
Why was Ntuthu able to teach when he was not supposed to make contact with any witnesses?
Can you explain the apparent discrepancy between how you handled the Ntuthu case and the allegations surrounding Equal Education?
What steps did the WCED take to interview witnesses regarding Ayanda Ntuthu and to investigate the allegations?
(The questions have been changed to past tense because they were sent before the case was dropped.)