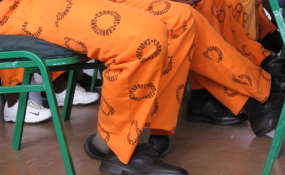 Photo: Laura Lopez Gonzalez/IRIN
analysis
By Rebecca Davis
What do Schabir Shaik, Oscar Pistorius, Radovan Krejcir, Tony Yengeni and now Henri van Breda have in common? They have all been high-profile inmates of South African prisons who have been kept in the hospital wings of jails rather than in the general cells. This is despite the fact that, in some cases, their medical conditions have seemed relatively trivial. Meanwhile, less privileged prisoners often struggle to get medical attention even when they desperately need it.
When convicted axe-murderer Henri van Breda was found guilty in the Western Cape High Court on Monday, it took no time for his lawyers to begin manouevres to try to keep him out of prison - or, at the very least, out of the general areas of prison.
If Van Breda had to be taken to Pollsmoor Prison, advocate Pieter Botha said, he should be held in the hospital section of the jail.
Appealing to the judge's knowledge of prison conditions, Botha argued:
"The accused is on chronic medication for epilepsy and depression... The possibility of awaiting-sentence prisoners to have access to medication is very difficult."
Though prosecutor...