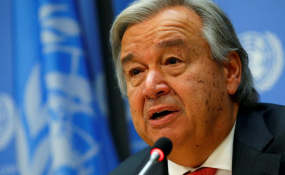 Photo: rfi
The five-country African force has been fighting jihadists in the dangerous Sahel region. But it has been dependent on donations from individual countries since it was set up with French backing in 2017.
The United States on Wednesday dismissed a proposal from UN Secretary-General Antonio Guterres for a multinational West African force to receive direct UN funding.
In a report, Guterres proposed direct funding for the Sahel force, a band of 5,000 troops from five countries -- Mali, Niger, Burkina Faso, Mauritania and Chad -- that border the Sahel region in West Africa, to replace donations from individual countries.
But US political coordinator Amy Tachco told the Security Council the US rejected on principle any UN mandate or funding for the force.
Plagued by problems
Donor countries have pledged some $500 million (€427 million) since the force was set up with French backing in 2017 to fight jihadists in the Sahel region. Last year, France failed to convince the US to back more UN support for the unit.
The force has suffered from delays and a lack of adequate equipment as it has tried to make one of Africa's most volatile regions safer.
Speaking to the Security Council, the UN Assistant Secretary-General for Peacekeeping Operations, Bintou Keita, said security in the Sahel remains "dire" and that militants and criminals will undermine the region "for many years to come."