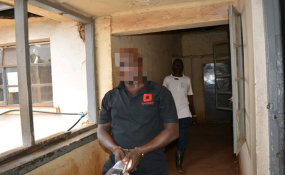 Photo: Daily Monitor
Police are holding a 37-year-old man for allegedly claiming to be a personal assistant to Ms Justine Kasule Lumumba, the ruling National Resistance Movement party secretary general and conning unsuspecting people of their money.
Jeff Kalanzi, a resident of Mutundwe is accused of impersonation, extortion and being in possession of government stores.
Kampala Metropolitan police spokesperson, Mr Luke Owoyesigire says Kalanzi was arrested by Kira Road Police officers who found him driving a vehicle with forged number plates.
Driving a Mark II vehicle with number plate marked as 'M7 2040', Kalanzi was allegedly clad in a UPDF attire and carried a fake walkie-talkie.
"Two weeks ago, Kalanzi conned a one Ambrose Mworozi of Shs2 million as facilitation to get an appointment with the NRM SG Hon Justine Lumumba. Kalanzi always introduces himself as a worker at the NRM Secretariat and a personal assistant to the NRM SG," reads part of a statement from Mr Owoyesigire.
The unsuspecting Mworozi paid but was unable to meet the Secretary General on the agreed date until he realised over time that he had been conned.
Kalanzi is currently detained at Kira Road Police Station and is to be arraigned in court.