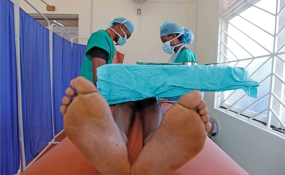 Photo: Edward Echwalu
Musician 'The Dogg' and Get Smart Cut Ambassador held an information session with Namport staff members in collaboration with the Ministry of Health and Social Services recently.
The Dogg addressed all those present on the importance of Medical Male Circumcision as well as the Health benefits of getting the smart cut and highlighted that a healthy body equals to a productive person.
The musician is currently on a campaign drive in the Erongo region and also will host charity shows in the aid of spreading the smart cut message, which will run in May upto September.
Commercial Executive of Namport, Tino Hanabed, said that as an employer of choice, Namport remains committed to not only delivering world class services to its clientele but also remains committed to its most valuable resource which is its employees hence such initiatives.
He further encouraged all male employees who have not yet undergone male circumcision to do so.
In 2017 it was reported that more than 700 boys aged 10 and above in the Zambezi region were circumcised under a national voluntary medical male circumcision.