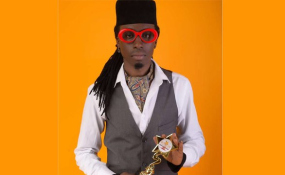 Photo: Daily Nation
opinion
By Lilys Njeru
The first impression that Eric Simiyu, 27, gives is of a composed and a reclusive person. However, beneath the calm poise is a man who has made a name for himself in the hairdressing industry.
He stands out as one of the most sought-after celebrity hairstylists in the country. His clientele list boasts of celebrities that cut across East Africa such as Alikiba, Antoneosoul, Bahati, Willy Paul, DK Kwenye Beat, Matonya, Vivian, and Juliani, among others.
He describes himself as a natural hair stylist with a forte in dreadlocks. The expertise he exhibits in the craft earned him the name "one wash" a sobriquet he got from his college classmates and one that has become more popular than his real name.
Interestingly, none of his family members is into this craft. He reminisces that he drew the muse from watching his elder sisters make their hair.
"Growing up, I used to watch them blow dry their hair and I would often accompany them to the salon. I am not certain what really made me want to pursue the art, but I think my mum's excitement when I blow dried my sisters' hair is a major contributor," he explains.
He became so fixated on hairdressing that he let go of an opportunity to join the University.
"I was set to join a local Public University to study theatre arts after clearing secondary school in 2008. While I waited, I decided to take up a one year course in hairdressing.
I enrolled at Beauty Point College mid-2009 and it was while there that I realised my passion was hairdressing. I gave up going to the University and I don't regret my decision.
Although the college offers a full course that entails braiding, weaving, locking hair, colouring and relaxing, Eric specialised in fixing dreadlocks.
"I had mine installed even before enrolling in college and through watching hairdressers work on my hair, I got in the know so I would be called upon to fix clients who used to visit the school's salon. Also, at the time, I was the only student with locks and seeing how other students admired them stirred my interest and I decided to specialise on it.
By the time I cleared school in 2010, I had a network of about six clients. There is also a "loctician" who had identified my talent and had asked me to reach out after clearing school. Therefore, I didn't have to hunt for jobs as he became my first employer," he explains.
Eric attributes the one year course for his growth and the success he enjoys today.
"It was while in college that I started building networks. I used to attend gospel concerts and also liaise with Christian Union (CU) and Young Christian Students (YCS) leaders to invite gospel artists to the school. Through our interactions, they got to know what I do and bookings started coming in," he explains.
After working under his first employer for three years, Eric worked in two other different salons until last year when he partnered with a friend and opened African Royalty, a natural hair salon based along Moi Avenue in Nairobi's CBD that offers services such as braiding, shaving, sister locs and straw sets among others.
BRANDING IS POWER
They attend to at least 10 clients on a daily basis and on average, his take home is Sh150,000 on a monthly basis.
"The salon has 15 employees who are skilled in different areas and our costs vary depending on the services being offered and the workload. We don't only focus on celebrities but also on other people, "he offers.
With more than 88k followers on Instagram, it is obvious that he is not just an ordinary hair stylist and he swears in the power of branding.
"In this industry, branding is everything. When customers come to you, they want more than just the service and you have to ask yourself what added value you are giving. In my case, besides offering exceptional services to my clients, I help them network - artists to artists and also with key players in the entertainment industry. I also offer consultancy services. Through my art, I have a package that covers all aspects of grooming," says the father of one.
To market his services, Eric has embraced the power of digital marketing and uses platforms such as Instagram, Facebook and Twitter to promote his business under the handle Eric one wash.
But, still, his strongest market tool is word of mouth.
"I thrive best on referrals. When I offer exceptional services to a client, they refer others to me, "he chimes in.
Although he has been in the industry for more than five years, he notes that every single day is a highlight for him.
"I get to meet different people every day and through what I do, I have managed to travel across borders," he says, observing that the best highlight of his journey is opening his salon last year.
His work in the industry has not gone unnoticed as last year during Mashujaa Awards, he was crowned as the hair stylist of the year.
He, however, confesses that the journey has not been without challenges and one of them is that personal issues tend to affect his work life.
"When you are popular, your private life is in the limelight. People know the power of your brand and when they have personal issues with you, they bring up the brand in the picture," he laments.
Nevertheless, Eric finds the journey exciting and he is optimistic to even working with International celebrities.
He concludes by saying that,
"Hairdressing is a venture with money but it is important to note that the world today depends on the power of branding. Also, one needs to be self-aware and believe in their capabilities."