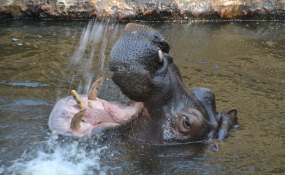 Photo: Pixabay
By Arnold Mulenga in Lusaka, Zambia
Lusaka — ZAMBIAN authorities have angered conservationists through plans to downsize the population of hippopotamuses in a local world-famous site.
Government's moves overturning the decision to suspend the culling of the 2 000 animals implemented in 2016.
The latest move is said to favour Umlilo Safaris, the South African hunting outfitter.
Born Free, the conservationist organisation that led efforts to stop the culling two years ago, said sources informed it government planned to reinstate the cull at Luangwa Valley.
Zambia's Department of National Parks and Wildlife (DNPW) has justified the cull, arguing the exercise was a wildlife management tool aimed at preventing anthrax outbreaks among animals due to high populations of hippo.
The agency argues the unusually-low rainfall in Luangwa is compounding the issue.
However, Born Free asserts that this is not the case.
"They are, apparently, using the same flawed rational for the slaughter as last time," said Will Travers, President of Born Free.
He said authorities had neither provided evidence demonstrating that there is an overpopulation of hippos in the Luangwa River nor proof such a hippo cull of healthy animals would prevent a future outbreak of anthrax.
Born Free appealed to national and international wildlife conservation organisations to join its calls on the government of President Edgar Lungu to halt to "this damaging and distressing plan with immediate effect."
Wild hippo numbers across Africa are under increasingly pressure with a maximum estimate of just 130 000 animals. Hippos are increasingly targeted for their ivory as a replacement for elephant tusks.