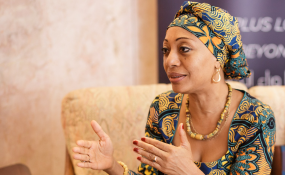 Photo: Elena Azzalini/Rhodes Forum
analysis
By Carien Du Plessis
Pan-African unity is often treated like a pipe dream by the continent's powerful, but there are some, like Samia Nkrumah, who believe in the vision of people like her father, Kwame. Daily Maverick spoke to her and a few other thinkers who gathered at the shores of Ethiopia's mystical Lake Tana about whether this ideal could become real.
Africa could be a country, but when last did you hear a politician campaign for an election at home with promises of opening more borders and ceding sovereignty? Pan-Africanist talk is often hauled out and polished on special days like 25 May - Africa Day - and heads of state and African Union officials use it to decorate speeches at this organisation's summits twice (soon to be once) a year.
Then there are those, like Samia Nkrumah, daughter of Kwame, who, more than 60 years after he led Ghana to independence and preached his vision set out in his book, Africa Must Unite, actually believe that African...