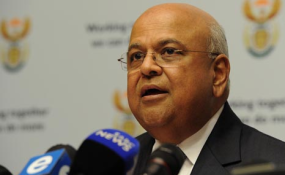 Photo: GCIS
By Marianne Merten
President of South Africa Cyril Ramaphosa addresses Parliament during an extraordinary sitting, Cape Town, South Africa, 15 February 2018; Pravin Gordhan. EPA-EFE/MIKE HUTCHINGS / POOL
President Cyril Ramaphosa on Thursday took full advantage to stamp his tone on what had been a tetchy budget vote debate in Parliament a day earlier. Effectively, the six-hour deliberation of the Presidency: Budget Vote 1 was another state of the nation address, coming just a few days before his first 100 days in office - an important political measure for a new president's foothold in office.
President Cyril Ramaphosa's "thuma mina (send me)" new dawn is edging on. In just short of 100 days, changes in the security cluster, previously beholden to power-politicking, State-owned Entities (SoEs) boards, previously at the heart of State Capture, and elsewhere such as at the South African Revenue Service (SARS), have been announced and put into action.
Perhaps the most speedy and visible changes have unfolded in the boards of State-owned Enterprises (SoEs), where Public Enterprise Minister Pravin Gordhan on Thursday announced further appointments.
Just shy of 90 days in the job, Gordhan has made a clean sweep of the boards of arms maker Denel and Transnet - both...