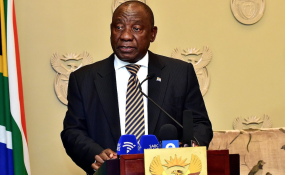 Photo: @PresidencyZA/Twitter
analysis
By Ben Turok
President Cyril Ramaphosa delivers his maiden State of the Nation address in Parliament on 16 February 2018. Photo by Leila Dougan
South Africa is right now at a critical turning point, and included in the challenges the country faces is the debilitating effects of hopelessness and pessimism. Among the problems of corruption, state capture and depletion of the national fiscus left by the years of Zuma's rule, South Africa has also inherited a loss of faith in leadership and what amounts to a national pessimism.
The ANC seems anxious to leave all Jacob Zuma's wrongdoing in the hands of the courts. Clearly it does not want to engage in public condemnation of his actions as President to avoid schisms in the movement and antagonize his supporters in the run up to the general election.
However, this does not preclude due recognition of the harm Zuma's rule did to the morale of the country. Especially in his last years as president, pessimism and cynicism became pervasive as South Africans all over the country came to doubt any prospect of improvement in the economy, our education system, the capability to control crime, and so much else. Race relations deteriorated as narrow black...