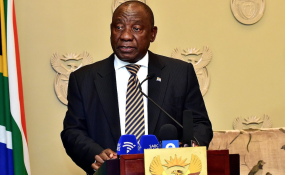 Photo: @PresidencyZA/Twitter
analysis
By Qaanitah Hunter
If there was a movie made about President Cyril Ramaphosa's first few months in office, it should probably be called "A Ghost from an ex-President's Past". This weekend marks 100 days since the once unionist-turned-politician-turned businessman and now president repeated an oath to high office and was sworn in. He made it known quite early that his election would be a New Dawn - and in some ways it has been. But his New Dawn was ushered in with the remnants of the torrid storm from the night before still visible on the horizon.
Former president Jacob Zuma's disastrous tenure still haunts the Ramaphosa administration. Ramaphosa can't build the metaphorical house he envisioned in his State of the Nation Address in February because the foundation he found there after taking office was built on dolomite.
On Thursday, Deputy Chief Justice Raymond Zondo updated the media on the commission of inquiry into State Capture, where he shocked many by saying he envisioned that the inquiry would take...