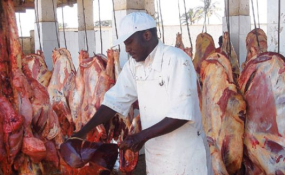 Photo: Daily News
By Louis Kolumbia
Dar es Salaam — A new report has raised concerns about the quality of meat consumed in Tanzania as 98 per cent of all slaughter facilities are unregistered.
It also warned about the high number of unhygienic slaughterhouses and unauthorised means of distributing meat.
The report released recently by the Controller and Auditor General (CAG) also cited poor inspection of abattoirs.
The 2016/17 audit report on domestic and imported meat shows that nine of 12 abattoirs where the team visited were unhygienic.
Sixty seven per cent of the slaughterhouses had unsafe meat handling facilities, 50 per cent had inadequate water, 67 per cent produced foul smell and swarms of flies could contaminate the meat while 42 per cent had damaged and dirty floors.
"A performance audit on the hygiene control in meat production process reported that, 912 out of 932 [equivalent to 98 per cent] of the slaughter facilities, were not registered while they were operating. This was contrary to Section 18(1) of the TFDA Act No.1 of 2003, and Regulation 5(1) of Animal Disease (Ante- and Post -Mortem Inspection) which requires all slaughter facilities to be registered before the commencement of their operations," reads part of the report.
The abattoirs were found to operate without clean toilets, foot bath and hand washing facilities as well employees' medical examination.
According to report, processing meat in such unhygienic conditions poses high risks of delivering unsafe meat to the public.
Report also indicates that vans used for transporting meat were unregistered. They were dirty and rusty, posing serious health concerns.
It noted that the involvement of many government agencies in registering abattoirs and definition of their responsibilities contributed to those weaknesses.
"The registration checklist by the TFDA, Ministry of Livestock and Fisheries and the Tanzania Meat Board provides loopholes for abattoirs to divert from required conditions," reads report.
Authorities have also failed to inspect abattoirs as required by health and environment standards to guarantee the public with hygiene conditions.
The audit revealed that TFDA conducted 37.74 per cent inspections (380 out of 1009) abattoirs from 2010/11 to 2013/14.
The Ministry of Livestock and Fisheries conducted no inspection from 2011/12 to 2014/15.
The report also cited the shortage of staff, equipment and funds as other serious challenges.
It showed the country had a shortage of 40 per cent of meat inspectors.