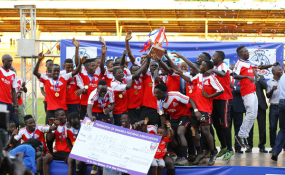 Photo: John Batanudde/Daily Monitor
column
By Andrew Mwanguhya
The atmosphere never suggested there would be any champagne popped here.
Police fans to one side and KCCA the other - seated and pensive.
The latter had just come to Namboole to watch and then see what happens across in Kitende.
The deposed Azam Uganda Premier League (AUPL) champions needed to beat Police and hope Vipers succumb to UPDF for them to retain the title.
KCCA hardly started on the right note, left back Mustafa Kizza injuring his knee in a collision with a Police player inside just four minutes to be replaced by Paul Musamali. Suddenly there was some life in the stadium as the Police band took over proceedings, their grooves rhythmic with their neat passing home team.
In between strikers Muhammad Shaban and Derrick Nsibambi dragged their shots and headers wide from good positions.
Good news from Kitende
Meanwhile, news from Kitende was one sweet melody for KCCA. Joseph Janjali had given UPDF a 24th minute lead over Vipers, two minutes before Allan Okello curled in a sumptuous free kick for KCCA's 1-0 lead at Namboole.
Suddenly, KCCA fans - hitherto a dull lot - were in full voice. As it stood, KCCA were winning the title... until Norman Ojik intervened with a cracker of a goal here, the forward letting fly of powerful drive that went in off the crossbar for 1-1 on 30 minutes.
Back at Kitende, a red card to UPDF's Julius Kisambira seemed to shift momentum towards the hosts, who took full advantage to level one-all through Yayo Lutimba's 44th minute.
If you thought Lutimba's goal in Kitende was a setback for KCCA, what happened next on the stroke of half time at Namboole was a dagger in the backside.
Below par Malyamungu
The fourth official signaled one minute of added time to the first 45 and the Cops, urged on by coach Abdallah Mubiru on the touchline, attacked.
Samuel Kayongo glanced over and saw a window of promise through KCCA legs. He then picked a low corner to beat Jamil Malyamungu to his right from outside the 18-yard area for a 2-1 half time lead.
With Erisa Ssekisambu, Daniel Sserunkuma and Pius Wangi completing a 4-1 rout of UPDF claim their third league title, substitute Patrick Kaddu's late leveler for 2-2 counted for naught.
Continent a must
"The struggle continues," said KCCA assistant coach Morley Byekwaso. Mutebi joined the bench later in the game after bidding farewell to his late dad.
"We still have another Cup to play and we are on the continent. We are going to put all effort to see that we at least win a Cup this season."
KCCA are in the semifinals of the Uganda Cup and in the group stage of the Champions League.