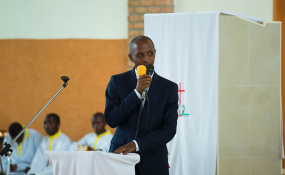 Photo: Timothy Kisambira/New Times
By Frederic Byumvuhore
The mayor of Bugesera District, Emmanuel Nsanzumuhire, and the vice mayors; Priscilla Uwiragiye, in charge of social affairs, and Eric Ruzindana, in charge of economic development, have resigned.
The resignation, which took place on Saturday, was confirmed yesterday by Donald Ndahiro, the chairperson of Bugesera District Advisory Council.
Ndahiro said that the council received the resignation letters of these officials, adding that all of them had cited "personal reasons".
He said that yesterday, the District Advisory Council met and approved the request by the trio and also appointed an interim mayor.
Richard Mutabazi, who is one of the council members, was appointed as the acting mayor, according to Ndahiro.
"We approved their resignation and appointed the acting mayor who will work with the other district staff until National Electoral Commission sets a date for mayor's by-election, and a new mayor is elected," he added.
In an interview with The New Times, Uwiragiye said that it was "time for me to move on", four years after she started serving the district, she said.
"A lot has been achieved in four years, so I believe others can build on what has been achieved," she said.
The development comes just few days after the resignation of Juvénal Mudaheranwa, the mayor of Gicumbi District and vice mayors including Jules Aimable Muhizi, in charge of economic development, and Charlotte Benihirwe, in charge of social affairs.
According to Benihirwe, they received a directive from the council asking them to resign which, she said, together with her two colleagues immediately did.
She, however, refused to divulge the reasons behind the move and said that the District Advisory Council was better placed to comment about it.
Efforts to speak to the council chairman were futile by press time.