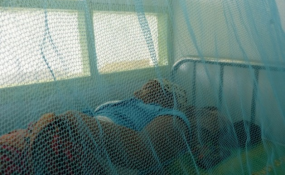 Photo: Mercedes Sayagues/IPS
By Angela Oketch
The Kenya Medical Research Institute (Kemri) has come up with a safe and superior drug for managing malaria during pregnancy.
The drug, dihydroartemisinin-piperaquine that is a second line intervention was found highly effective for treating clinical malaria.
The scientists involved found the drug to be safe for use during the second and third trimester.
The drug is said to have passed all relevant safety tests and proved to be superior to the one in the market, Fansidar, during trials conducted in Siaya, Kenya, as well as another in Uganda.
It was well tolerated and more effective than Fansidar in preventing malaria during pregnancy.
Dr Simon Kariuki, the chief research officer at the Kemri Centre for Global Health Research in Kisumu said since the World Health Organisation cannot change policy based on one site trial, more observations are being carried out in ten sites in Kenya, Tanzania and Malawi.
Devastating
WHO guidelines have been prescribing Fansidar twice in the second and third trimesters but now recommend monthly doses during antenatal visits since it only partially protects mothers against malaria.
Pregnancy increases women's susceptibility to malaria infection, with first- and second-time mothers at particularly high risk.
According to Dr Hellen Barsosio, the study's coordinator, malaria is one of the top three killers of pregnant women.
"Malaria in pregnancy has devastating consequences for the mother and unborn child. Pregnant women are often infected with malaria without showing any outward symptoms.
"These, if left undetected and untreated, can cause anaemia and interfere with the development of the unborn child leading to loss of the pregnancy, or premature and low birth weight," Dr Barsosio, said.