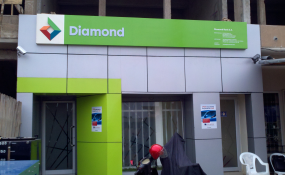 Photo: The Guardian
By Onozure Dania
Diamond Bank has filed a suit against a politician, Chief Fouad Ade-Oki before a Federal High Court, sitting in Lagos in a bid to recover a N212,051, 898.22 debt.
Joined as co-defendants in the suit is Oki's firm, Eko Akete Engineering and Construction Company.
At the resumed hearing of the matter, the bank's lawyer, Mrs Ifeoma O., when asked by Justice Chuka Obiozor why the matter had not been heard since it was filed in 2016, informed the court that the defendants have been evading service.
The court then ordered her to move her application and call her witness in the matter.
Following the directive of the judge, the lawyer called a witness, Mrs Stella Ekhator, who is the Ajah Branch Manager of the bank.
However, the matter could not proceed further due to time factor, consequently further hearing was adjourned till June 25.
The bank, in its statement of claims filed before the court by its lawyer, Lotanna Okoli, stated that its management had in May 1, 2012 approved a request of Oki's firm for a term loan facility in the sum of N75 million, which the firm used in purchasing heavy duty equipment and to fund some project works for the construction of Suleiman Soderu by-pass in Ikorodu Local Government Area of Lagos State.
The bank also stated that in February 1, 2013, Oki's firm approached it for loan facilities, which were availed to the firm in the sum of N36 million and N55,530 million, as a term loan and lease finance facility.
It added that Oki, who is the Managing Director of the firm and one Bayo Akeju, who is also a director in the firm, signed the acceptance column of the offer letter.
Diamond Bank added that Oki's firm utilised and drew down on all the facilities availed it, and as at November 1, 2014, due to the transactions on the said amount, and the failure of Oki's firm to fund its account, the firm's account was in debt to the tune of N151,028, 057. 04 million.
The bank states that despite having guaranteed the construction firm an extension of the outstanding loan facilities, the firm has failed, refused and neglected to settle its outstanding.