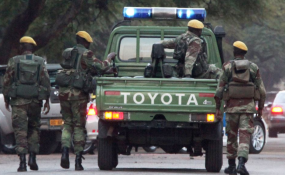 Photo: VOA
By Bernard Mpofu
Zimbabwe will maintain its soldiers deployed in Equatorial Guinea to provide security to the country's leader Teodoro Obiang Nguema Mbasogo as well as train the West African nation's military, it has been established.
Relations between Harare and Malabo strengthened after Harare foiled a coup, known as the Wonga coup attempt, by mercenaries who sought to topple President Nguema and replace him with exiled opposition leader Severe Moto in 2004.
In March 2004, Zimbabwe intelligence officers at the then Harare International Airport (now Robert Mugabe International Airport) impounded a plane, which had flown in from South Africa carrying the alleged coup leaders led by former Special Air Service officer Simon Mann.
Mann, together with 69 other mercenaries, was detained in Zimbabwe before he later cut a deal with Nguema to become his security advisor. Since 2006, Nguema has visited Zimbabwe almost every year and in 2015 Mugabe went to Equatorial Guinea twice.
Sources privy to last week's negotiations between Nguema and President Emmerson Mnangagwa last Thursday said the two leaders agreed to extend political relations with Malabo committing to continue its trade and investment deals with Harare. This comes as it has been confirmed that the West African nation provided US$5 million for Mnangagwa's campaign.
Zimbabwe's general election is on July 30.
Soon after the foiled coup, former president Robert Mugabe, a close ally of Nguema, sent security forces to Equatorial Guinea to bolster security in that country. Malabo on the trade front extended a fuel supply facility of up to 120 million litres to the southern African nation. The country also has interests in tourism and real estate in Zimbabwe.
"Nguema was on a two-day visit to Harare to meet Mnangagwa and Mugabe to discuss politics and the security situation back home. He assured Mnangagwa that he wanted to maintain the cordial relations he enjoyed with his predecessor," a source familiar with the developments said.
In January 2016, Nguema asked Mugabe for a security team comprising of police officers and elite soldiers to help counter terrorism when the West African nation hosted the African Cup of Nations. The team provided VIP security and intelligence with Equatorial Guinea meeting all the expenses of the team.
Questions were raised over the constitutionality and legality of the deployment which was shrouded in secrecy and controversy.
ZDF spokesperson Colonel Overson Mugwiri told the Zimbabwe Independent that there was a bilateral agreement between the two countries formalising the troop deployment.
"There is a bilateral agreement between the two countries," he said.
Under Section 213 of the constitution, any troop deployment for maintaining law and order together with police, peacekeeping or protecting Zimbabwe's interests abroad should be approved by Parliament.
"With the authority of the President, the Defence Forces may be deployed outside Zimbabwe -- (a) on peacekeeping operations under the auspices of the United Nations Organisation or any other international or regional organisation of which Zimbabwe is a member; (b) to defend the territorial integrity of a foreign country; (c) in fulfilment of an international commitment; or (d) in defence of Zimbabwe's national security or national interests," stipulates the constitution.
"By a two-thirds majority of the total membership of parliament at a joint sitting of the Senate and the National Assembly, parliament may resolve that a deployment of the Defence Forces outside Zimbabwe should be rescinded.
"Where Parliament has resolved that a deployment of the Defence Forces outside Zimbabwe should be rescinded, the president must take all practical steps to withdraw the Defence Forces, taking due account of the need to ensure the safety of Zimbabwean personnel and equipment."
Asked by MDC-T MP Jessie Majome in Parliament in March last year why government had sent a contingent to Equatorial Guinea during last year's African Cup of Nations soccer tournament, then Defence minister Sydney Sekeramayi said: "With regards to the deployment in question, there was no situation of war in the country or threat of war and the purpose was not to engage in combat operation, but merely to ensure a safe and peaceful environment and safety for the African Cup of Nations tournament in support of and at the request of the host nation."
"In light of the nature of business for which the Defence Forces were deployed, we did not consider it necessary for His Excellency to cause parliament to be informed because there was no military action, which would have involved direct loss of life to soldiers through military action, neither did it involve expenditure of fiscal resources, which parliament directly controls as all resources were provided by the host nation."
Later on the Zimbabwe Defence Forces deployed a team of trainers to Equatorial Guinea to train that country's military officers on "operational and logistical matters"