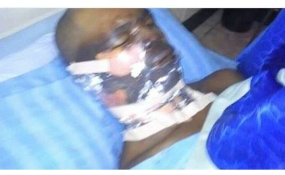 Photo: Zambian Observer
By Musonda Mangilashi
IRATE small-scale miners popularly known as 'Jerabo' yesterday fought running battles with police in Chingola after news went round that their leader who sustained serious burns after his house was set ablaze by a suspected rival group, had died.
The Jerabo went on rampage burning tyres and blocking the roads in Chiwempala Township in protest against the death of their leader, Isaac Chiwasha popularly known as 'Debra Richie'.
But quick action by police prevented the situation from getting out of hand as some keepers hastily closed doors for fear of being looted.