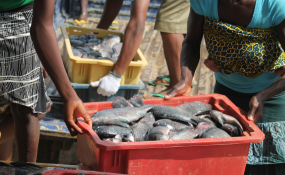 Photo: The Guardian
By Sanjito Msafiri
Bagamoyo — Despite having a fisheries economy that is currently estimated at nearly $4 billion (Sh10 trillion) in value, Tanzania still imports fish valued at Sh20 billion annually.
The country produces a total of 336,821 tonnes of fish annually, which is lower than the demand of 731,000 tonnes. This translates into a shortage of 394,179 tonnes.
To ease the shortage, Tanzania has turned to importing fish and fish products from China and Vietnam.
Commenting on this, the deputy minister for Livestock and Fisheries, Mr Abdallah Ulega, said yesterday that Tanzania is compelled to import fish due to the poor local production which is insufficient to cater to the actual demand on the ground.
"The country's fish consumption stands at 731,000 tonnes annually, but we are able to supply 336,821 only, which is almost half of what is required," he said.
While on a one-day official tour of Bagamoyo and Kibaha districts in the Coast Region, Mr Ulega said the government has taken various measures to encourage the public in general, and stakeholders in particular, to engage in fish production with a view to reducing the deficit even as they improve their social and economic status.
He added that that the government was already addressing the challenges which fishery operators face, including inadequate capital and lack of broader understanding of the aquaculture business.
"We (the government) are also making efforts to produce enough fish seeds, as well as ensure that quality fish is produced and supplied to various outlets across the country."
According to the National Bureau of Statistics (NBS), fishing is currently estimated to contribute Sh3 trillion to the national economy.
But the parliamentary probe committee on Deep Sea Fishing chaired by Ms Anastazia Wambura revealed that Tanzania's fisheries sector suffered a loss of Sh5.9 trillion between 2009 and 2017.
Handing over the probe report to National Assembly Speaker Job Ndugai on Saturday, Ms Wambura said the loss was attributed to various factors, including improper management of the exclusive economic zone into the Indian Ocean.
She named other factors as lack of qualified personnel, export of unprocessed fish, tax evasion and under-declaration of taxes by fishing vessels.
Ms Wambura said it was most unfortunate that Tanzania was not getting what it deserves from its 223,000sqkm of exclusive economic zone (EEZ) as prescribed by the United Nations Convention on the Law of the Sea, and over which the state has special rights regarding the exploration and use of marine resources.
In the event, she lamented that the government earned only Sh993.15 million during the period of the probe in the form of revenues, and that Sh634.911 billion was being lost annually due to exporting fish in the raw form, as well as from rampant tax evasion and inadequate supervision.
"We even lost Sh2.21 trillion in 2016/17 due to massive under-declarations," she said, further noting that the Tanzania Revenue Authority (TRA) lost Sh507.5 billion during the same period due to misinterpretation (misapplication) of the law.
In another development, the owner of the Bagamoyo-based Hill Group factory, Mr Hillary Shoo, pleaded with the government to provide livestock production firms with time to correct weaknesses unveiled during inspections, instead of suspending production or handling out stiff penalties.