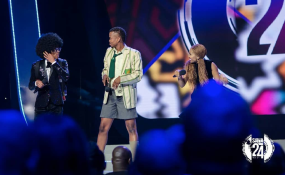 Photo: SAMAs
Blog
By Melody Chironda
Cape Town — If you missed the South African Music Awards - don't worry - we got you covered.
The South African Music Awards was at the Sun City Super Bowl. This year's awards were dedicated to "reliving and commemorating the importance of music in the history of the country".
It seems like President Cyril Ramaphosa meant every word when he said Thuma mina as he was all over this year's awards ceremony. The president first went up the stage to welcome and open the show. Then he later went up again to present the Lifetime Achievement Awards to three recipients; Spokes H, Steve Kekana, and Mbongeni Ngema. He also presented Shashika Mooruth with International Achiever Award. We see you, Mr President.
And then Riky Rick happened... While most were busy slaying the red carpet, Riky decides to come looking like a hot mess. And true to black twitter, he quickly found himself on the trending list with #RikyRickChallenge. The rapper caused chaos - with his outfit leaving so many shocked and confused. His outfit was created by internationally acclaimed local designer Chu Suwannapha's label Chulaap. It's true when they say Riky's fashionista is in a league of its own.
Did Somizi really go there? Yes, he did! The presenter stayed true to his character - always throwing shade and taking shots at a number of celebs. Maybe it was payback time after he was on the hot seat on the Comedy Central Roasts of Somizi. He also said that he was now tired of hosting the SAMAs - I guess we too are tired of seeing the same face.
It was a good night for popular singer Shekhinah. She bagged the Best Album of the Year, for her Album, Rose Gold, Best Female Artist of the Year and the Best Newcomer of the Year. Way to go girl!!! Unfortunately, Kwesta who was nominated in two categories scooped dololo. Despite not winning anything, Kwesta gave a good performance at the ceremony. Better luck next time.
It can't be an interesting event without Skolopad showing up. The singer was reportedly carried out of the venue on a stretcher after passing out, allegedly from exhaustion, although some have speculated that alcohol may also have been a factor. Hey, it's not my place to judge. We hope she feels better.
We can't deny that Omunye by Destruction Boyz was the national anthem track for the past year. The qgom music stars won the biggest award - Record of the Year - and they closed the ceremony with a hot performance.
This year's SAMA's ceremony was a bit of a let down to many. They were empty seats and the whole production just needs a boost. The ceremony seemed like it wasn't well organised but there's always 2019...