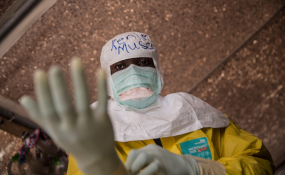 Photo: Louise Annaud/MSF
By Chioma Obinna
As the outbreak of Ebola spread in the Democratic Republic of Congo, DRC, a Public Health Physician, Dr. Osunyomi Opeyemi has urged government at all levels in Nigeria not to repeat past mistake by allowing the Ebola Virus Disease into Nigeria before commencing surveillance activities.
Opeyemi, who pointed out that Nigeria has a penchant for fire brigade approach to urgent issues, argued that the 2014 experience ought to have taught the country a good lesson, and should not be allowed second a time around.
In a chat, Opeyemi told Vanguard that assurances that government had set up guards at the land and sea borders should not just be a pronouncement but backed up with action to avoid a repeat of the 2014 episode.
"The news of Ebola coming up again in DR Congo should be taken seriously. Nigeria has to be on the lookout. I cannot say how ready Nigeria is at the national level because Nigeria is used to fire brigade approach but at the primary healthcare level in Lagos State, we are ready.
"During the last Ebola outbreak, it was doctors at the primary health level that were mostly involved especially the medical officers of health. We were meant to track people that had contact.
That was very risky because we know that close contact could just make you get droplets from any of those infected. It was very risky. Already, at our levels we are talking about putting measures down and sensitising our members that they should report any sign of the virus. I also believe that in the tertiary hospitals, they also have their staff ready in Lagos. All the posters of Ebola are also up in the PHCs."
Further, Opeyemi who is a staff of the Lagos State Primary Healthcare Board urged the Federal Government to ensure that all the isolation centres are ready and precautionary measures in place in hospitals.
"By now, the isolation centre at the Mainland Hospital, Lagos, should be ready not because we are hoping or expecting Ebola to come into Nigeria but our borders are too porous and anything can happen.
"Ebola as at that time had been rampaging countries like Liberia and Senegal even before Sawyer entered Nigeria. But one case, in Nigeria, the, WHO and other partners came because they know Nigerians are moving people and can be everywhere and anywhere. I believe Nigeria should be ready. Our isolation centres should be ready."
Lamenting the porous nature of the land borders, she advised: "Individuals should also be on the lookout. If you see a patient complaining of fever, diarrhoea etc, don't hide the person, report immediately. No one should delay or harbour anybody because you may be harbouring your death."