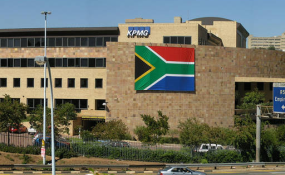 Photo: KPMG South Africa
By Marianne Thamm
In the year since Scorpio and amaBhungane obtained a trove of emails which became known as the #GuptaLeaks, KPMG, one of several private sector companies implicated in the gargantuan corruption of State Capture in South Africa, has limped from crisis to crisis. On Monday the auditing firm announced it was "reshaping" its business and that 400 employees could be losing their jobs.
The existential crisis facing auditing giant KPMG's South African operation has been mirrored somewhat in the construction of its new R550-million "iconic office tower", KPMG Place, in Cape Town's new Culemborg Legal and Financial Services Precinct on the city's Foreshore.
Construction on the 25-storey tower ground to a halt in 2017 when building contractor NMC Construction Group was placed under provisional liquidation more or less at the same time that a tidal wave of troubles crashed over KPMG SA. This as a consequence of work KPMG had done for Gupta-related businesses as well as a forensic report it had been commissioned to produce by former SARS Commissioner Tom Moyane on the "rogue unit".
Building on KPMG Place has since resumed, with the firm hoping to move into its new home at the end of June or July.
On...