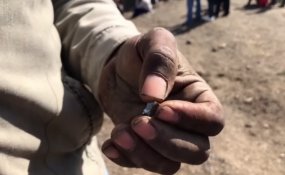 Photo: Multimedia Live/YouTube
Illegal mining operations in KwaMachi in Harding, on the far south of KwaZulu-Natal, have ground to a halt after serious concerns were raised about the safety of diggers.
Residents became "gold diggers" after construction workers looking for quarry stones discovered a material that resembled gold two weeks ago. The quarry stones were meant for the paving of the village's gravel roads.
But now illegal mining operations have stopped, and barbed wire has been used to cordon off the site.
Government and community leaders in KwaMachi took the decision during a stakeholder engagement organised by Sihle Zikalala, the KwaZulu-Natal leader of government business and MEC for Economic Development, Tourism and Environmental Affairs.
The stakeholders, who comprised traditional leaders, mayors, geologists and community leaders, raised serious concerns that the mining operations were putting the lives of diggers in danger because they were knocked by falling rocks on a daily basis.
The illegal mining was also causing unnecessary tension among villagers who compete for mining space, said the department.
The residents have to wait two months before they find out if the substance found was, in fact, gold.
"We have all agreed that there is currently no evidence that what is being mined here is real gold and we have agreed to ensure that no mining activities take place. Geologists from the Department of Mineral Resources will continue to investigate whether or not there is any potential for the exploration of gold in the area. We expect them to give us the final report in the next two months. We call on our people to allow this process to unfold," said Zikalala in a statement.
He said the provincial government was worried that the "gold" rush had also caused pupils to miss classes.
"We have been told that some children no longer go to school. They spend the whole day at the mine and sell stones. This has to end. We have been assured by the law enforcement agencies that the decisions we have taken today will be enforced," he said.
Department of Mineral Resources spokesperson Ayanda Shezi said: "The Minister of Mineral Resources is empowered in terms of Section 50 of the Mineral and Petroleum Resources Development Act (MPRDA) to investigate the occurrence of or to establish if any mineral or geological formation occurs on or under land, as well as the nature and extent of mineral resources."
Shezi confirmed that they had already taken samples of the rock for laboratory testing.
"The department, together with the Council for Geoscience, have already taken samples of the rock found and have taken it for lab testing, the results of which will be available in a few weeks," he said.
Source: News24