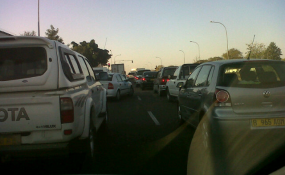 Photo: Gaborone Traffic
By Manowe Motsaathebe
Serowe — Serowe Administrative Authority (SAA) councillors have expressed displeasure at the slow pace and seemingly poor quality of internal roads in Serowe.
When opening SAA sub council June session on June 4, Chairperson Mr Mpho Kooreme informed councillors that intended beneficiaries of the 40KM Serowe internal roads were unhappy at the progress and quality of the roads.
Mr Kooreme was also of the view that the roads were of poor quality despite big companies engaged to deliver quality roads as promised by the then Vice President Mr Mokgweetsi Masisi when delivering the project at Serowe main kgotla.
The roads are constructed at a cost of P104 million from interlocking bricks at some identified roads within Serowe to improve ease of access and movement.
However, Mr Kooreme poured scorn on the quality of material and the level of expertise engaged in delivering the high quality roads.
In fact, he argued that had small companies been engaged to construct the roads, more roads in his area could have been done albeit at lower price.
The chairperson rallied his fellow councillors to air their grievances when they meet with officers from council roads offices.
He argued that the quality of the roads upon completion should match the amount of funds spent.
"We can't sit and watch as public funds go down the drain," said Mr Kooreme who also found that the contractors contravened an agreement to the effect they engaged locals as labourers.
Mr Kooreme termed it disheartening the manner in which roads were constructed and called on his colleagues to act and desist from attracting tags as 'a sub council that does not deliver quality services.'
The contractors are reportedly not providing alternative roads when closing the roads they are working on and as such creating problems for motorists.
On other issues Mr Kooreme revealed that his council will build 15 housing units for Rural Area Dwellers at a cost of P1.5 million.
Builders have already been identified and a meeting is set for orientation.
He also said that P26.5 million has been availed for economic stimulus programme for backlog eradication at primary schools.
Also P12.5 million has been approved for maintenance of primary schools.
Commenting on the speech, nominated councillor Mr Ronald Mojakgomo voiced his complaints which he said dated back to the initial stage of roads construction.
However, Mr Mojakgomo furiously revealed that he was then dismissed as a mere nominated councillor.
He said that upon realising that the roads started off on a wrong footing he consulted some ward councillors about his concerns and observation where again was dismissed, according to his account.
Though he admitted to challenges brought by developments, Mr Mojakgomo who shared Mr Kooreme's concerns found that motorists were left struggling to maneuver around the closed roads.
Another councillor Mr Setlalekgosi Molefhi conceded that internal roads concerns were widespread around the village but urged councilors to defer their concerns to a time when they meet with officers.
He however, wondered if the SAA was devoid of expertise in supervising and assessing roads so much that they could source answers from a superior Central District Council.
In 2016 then VP Mr Masisi informed Serowe residents that government had decided to construct internal roads of 25.8km at a cost of P50 million, outside council budget.
The roads were expected to be delivered in 12 months from date of tender awarding.
However, with the calls for increment from councilors the roads length was stretched to 40km at P104 million.
BOPA