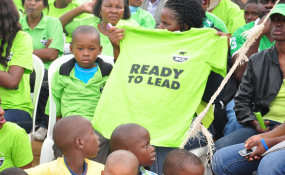 Photo: Botswana Congress Party
By Goratileone Kgwadu
Bobonong — Botswana Congress Party (BCP) will, on Saturday, hold primary elections to select candidates that will represent the party in the 2019 general elections.
In an interview, BCP Bobonong constituency branch chairperson, Mr Lemogang Obateng said preparations in the area were on track and that they had erected more than 10 polling stations across the constituency.
Mr Obateng said the primary elections would be held in 17 allocated constituencies.
He said the party was hoping for an error-free elections, but noted that the only hiccups they were facing were errors in the voters' roll since some names appeared twice while others did not correspond with national identity cards and some shared names with relatives they were named after.
Another challenge, he said, was that of names of people who had died, but still appeared in the voters roll.
He however, promised a clean voters' roll on the day of the elections since the challenges were being addressed.
He said Bobonong constituency for the first time, registered a large number of those wishing to contest for council wards largely because of failure by some representatives to deliver on their promises and mandate.
Dandane/Mabeleng ward, which is under the BCP, he said registered five candidates, Rasetimela, also under BCP registered two, another BCP ward Mabumahibidu registered three.
Lepokole/Borotsi, Masego, Moletemane and Molalatau wards have two contestants each, while Tsetsebye contestant is unopposed.
Mr Obateng said the party would not contest Motlhabaneng/Lentswelemoriti and Mathathane, but would be contested by Botswana Movement for Democracy.
For the parliamentary seat, he said long time runner, Mr Taolo Lucas was unopposed.
Mr Obateng expressed concern that only two women would be contesting.
BOPA