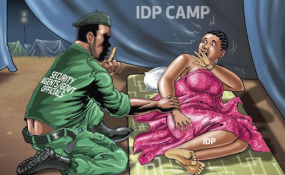 Photo: This Day
By Ahuraka Isah and Solomon Ayado
Senate, yesterday announced its resolve to probe allegations of rape and human rights abuses by military on internally displaced persons of attacks in the North East region.
Consequently, the Senate has set up an investigative panel to look into the allegations. The probe by Senate followed a report by Amnesty International.
The ad-hoc probe committee is headed by the chairman of Senate Committee on Judiciary, Human Rights and Legal Matters, Senator David Umaru (APC Niger East). Other members are: Senators Babajide Omoworare (APC Osun East), Abubakar Kyari (APC Borno North), Jeremiah Useni (PDP Plateau South), Binta Masi Garba (APC Adamawa North), Stella Oduah (PDP Anambra North) and Ben Murray-Bruce (PDP Bayelsa East) as members.
Presenting the report yesterday, Senator Shehu Sani (APC Kaduna Central) noted that there was urgent need for the legislature to verify the report since it involves the military.
The Amnesty International report claimed that the IDPs were faced with further human right abuses especially rape, in exchange for humanitarian assistance after they had suffered from the Boko Haram attacks.
According Sani, "The report by Amnesty International is a report that carries details and empirical evidence of torture, rape and starvation of women detained in the northeastern part of Nigeria.
"Many of these women are women that have survived or escaped Boko Haram attacks and invasions.As a democracy we have a twin obligation to prosecute the war against terror and in every possible way protect and defend the fundamental rights of Nigerians," he stated.
The Deputy Majority Leader, Senator Bala Ibn Na'Allah, however expressed mixed feelings about carrying out the investigation,pointing out that while it was necessary to investigate the allegations, the lawmakers should carry out the probe with caution.
President of the Senate, Bukola Saraki in his ruling, urged the committee to investigate the matter and report back immediately.