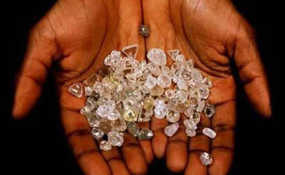 Photo: The Herald
By Charmaine Ngatjiheue
State-owned Namib Desert Diamonds spent N$11,23 million in consulting fees, according to its first 2017 annual report tabled in parliament on Tuesday.
This figure was the biggest from the N$23,12 million the company spent during its 11 months of existence, as at the end of February 2017. Another bulk expense was the N$3,99 million the company spent as emoluments for its directors during the period under review, followed by N$2,04 million spent on overseas travel. The amount the company spent on its directors surpasses the N$3,8 million the company spent on salaries for the 11 months of business.
The report further outlined that Namdia paid roughly N$29,52 million in taxes, while making a profit of N$62,67 million during the period under review.
Despite having made a profit during the period under review, the company did not declare any dividends to the government.
Reviewing the company's statement of comprehensive income, it shows that they garnered revenue of N$860,66 million during the period under review, with cost of sales that stood at N$752,12 million.
Namdia chief executive Kennedy Hamutenya said in his report the company has enjoyed excellent sales, with good margins of profit above the De Beers selling price each month since its first trade in September 2016. He said Namdia is carrying over no stock, and successfully bought and sold five shipments from the Namibia Diamond Trading Company in challenging conditions with neither a bank line of credit, nor an office to work from.
"Namdia has demonstrated that prices higher than the De Beers price book can be achieved. The road ahead is, however, challenging, and we remain cautiously optimistic," he said.
Moreover, Hamutenya noted that global rough diamond supply is estimated to decline by 1% to 2% per annum, although the market is estimated to grow at an annual rate of between 2% to 5% until 2030. The short-term supply-demand balance will largely depend on the behaviour of the major producers and market pipeline efficiency.
"China and the United States are expected to remain the leading diamond jewellery markets, and will largely determine rough diamonds demand and pricing. India will most likely become the third-largest market ahead of Europe and Japan by 2020. India has the potential to be the fastest-growing diamond jewellery market in the coming years, based on the strength of increasing urbanisation, middle class expansion and the promotion of the engagement ring," Hamutenya said.