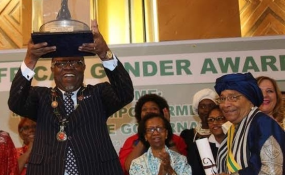 Photo: AllAfrica
By Sakeus Iikela
President Hage Geingob on Tuesday said the government will continue to dedicate resources to the gender equality agenda and women's empowerment at all levels.
Geingob made the remarks in Windhoek after receiving the African Gender Award from the Gender Is My Agenda Campaign (Gimac) steering committee.
The award was presented to Namibia in recognition of the progress the country has made in promoting gender equality and the empowerment of women, and for especially promoting women's representation in key decision-making positions.
Gimac representative Thelma Awori, who presented the award to Geingob, also praised Namibia's legal and policy frameworks aimed at promoting women's rights.
In accepting the award, Geingob said women play an important role in national and continental development programmes, and twomen's representation in such activities must thus be promoted to increase "effective contributions".
He said government was committed to increasing the opportunities for girls to succeed, as well as to increase women's participation in all socio-economic spheres, and to promote and nurture women leaders.
Namibia ranks eleventh globally in terms of the number of women in parliament, with 46%.
Geingob added that the progress made on women's representation in the National Assembly was due to the 50/50 gender representation that was introduced by Swapo after to go for a zebra list at its 1997 congress.
"Without the equal participation of women in our development initiatives, we will not be able to bring about an Africa of equal opportunities in which all people will pursue their aspirations," he said. The President also recognised the efforts of his predecessors Hifikepunye Pohamba and Sam Nujoma in the area of gender equality and women's empowerment.
"In Namibia, gender equality is not a slogan. We breathe it, speak it, and live it. We do so, knowing well that men and women are peerless partners, who are supplementary to one another. We should leave no stone unturned in enabling the girl-child and women to reach their potential, express their creativity, and nurture their talent," Geingob said.
At the event, he conferred the Order of the Most Ancient Welwitschia Mirabilis First Class on former Liberian president Ellen Johnson-Sirleaf for her role in women's empowerment.
Upon receiving the award, Johnson-Sirleaf expressed gratitude for the role Namibia played in normalising the situation in Liberia after the Charles Taylor dictatorship.
She added that she would like to see a second woman president on the continent, "but not only the second, but the third, the fourth, until equality is reached".
"In rather rapidly changing global conditions, in climate, in technology, in strategic partnerships, in values, we can never stop, we can never rest, we can never stop making the world a better place to live in," she emphasised.
State-owned enterprises, private companies, civil society bodies and media organisations were also given awards for progress made towards gender equality at the event, especially with the representation of women in managerial positions.
These include Namdeb, the Motor Vehicle Accident Fund, and Lifeline/Childline. Women's Action for Development, as well as the Republikein newspaper.