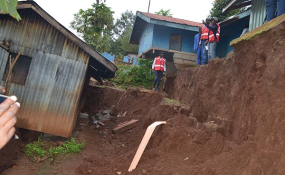 Photo: The Nation
By Ndungu Gachane
Dozens of families in Murang'a County have been left homeless after their houses and farms were destroyed by mudslides and fault lines triggered by the ongoing rains.
The most affected areas include parts of Kangema, Mathioya, Kahuro and Kigumo sub-counties where 600 households were displaced after their houses were destroyed by rains, Kenya Red Cross said.
In Kangema, huge cracks cut across some home compounds causing houses to sink. Some tea farms also sunk.
Kenya Red Cross said some houses were completely destroyed by mudslides and others sunk leaving residents homeless.
Mt Kenya Red Cross Regional Manager Mr Gitonga Mugambi said some families have lost their tea and coffee farms which have been carried away by mudslides.