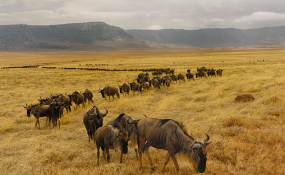 Photo: The Citizen
By Sauli Giliard
The world famous wildebeest migration in Serengeti National Park will most likely not be able to reach Maasai Mara in Kenya in October, this year as it is regularly used to.
According to www.expertafrica.com, the great Serengeti wildebeest migration is the movement of vast numbers of the Serengeti's wildebeest, accompanied by large numbers of zebra, and smaller numbers of Grant's gazelle, Thomson's gazelle, eland and impala.
The main reason for this, as evidenced by the spots in the Serengeti Park, is that the last year and the just ended May heavy rains in the Serengeti have nourished the park hence there is enough grassland for grazing.
These rains made the migration to delay for almost two months in the areas of South Serengeti and Ngorongoro to the north.
The precise timing of the Serengeti wildebeest migration is entirely dependent upon the rainfall patterns each year - here we explain how the broad pattern works.